In today's world of dispersed corporate data, leveraging custodians to help inform where data is stored and additional custodians that should be added can be tremendously beneficial when sending out legal hold notifications. Legal Hold Pro allows administrators to require answers to specific questions. Additionally, it supports a variety of question types that require a certain format (e.g., Email, number, date, file path) so that your data is easy to use.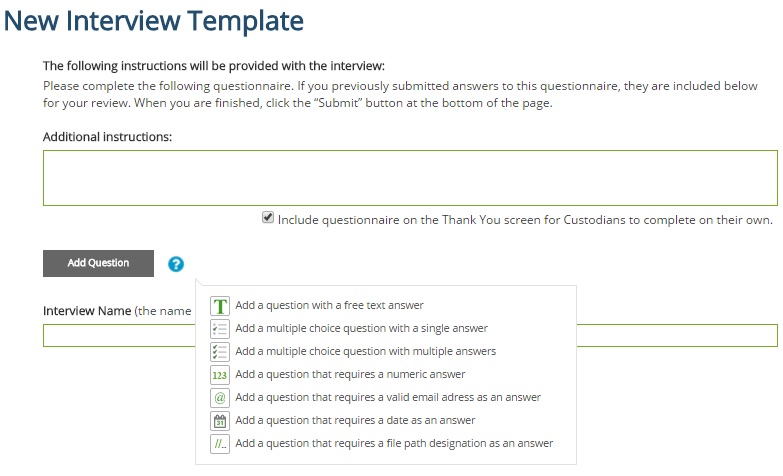 "We've included this functionality in our Legal Hold software because it allows legal hold administrators to get much more detailed information from custodians when sending out custodian interviews," said Katy Boyles,product manager for Legal Hold Pro . "Since they can require the answer to match a certain format, they get more accurate and useful info."
The ability to require questions makes it much easier for corporate legal teams to highlight the questions that are the most important and ensure that custodians are providing this crucial information upon acknowledgement of the legal hold notification.
Get started improving the way your company manages ediscovery
At Zapproved, we believe in modernizing ediscovery. We support forward-thinking corporate law departments that are honing ediscovery into a more efficient process, where more is done by the in-house team to lower downstream ediscovery costs.
Schedule a 15-minute online demo of the ZDiscovery Platform or any of Zapproved's "Pro" solutions: Legal Hold Pro, Data Collect Pro or Digital Discovery Pro, to see how easy it is to get started improving the way your company manages ediscovery.