EFFORTLESS EDISCOVERY SOFTWARE FOR CORPORATE TEAMS
ZDiscovery® is ediscovery software that empowers in-house legal teams to manage data preservation and document review with ease.
Reduce the cost of corporate ediscovery and litigation response
Legal Hold Pro
Defensibly reduce corporate risk with automated litigation holds, data preservations and data collections.
Digital Discovery Pro
Streamline the document review process with intuitive data processing and review software.
Transform ediscovery from reactionary to routine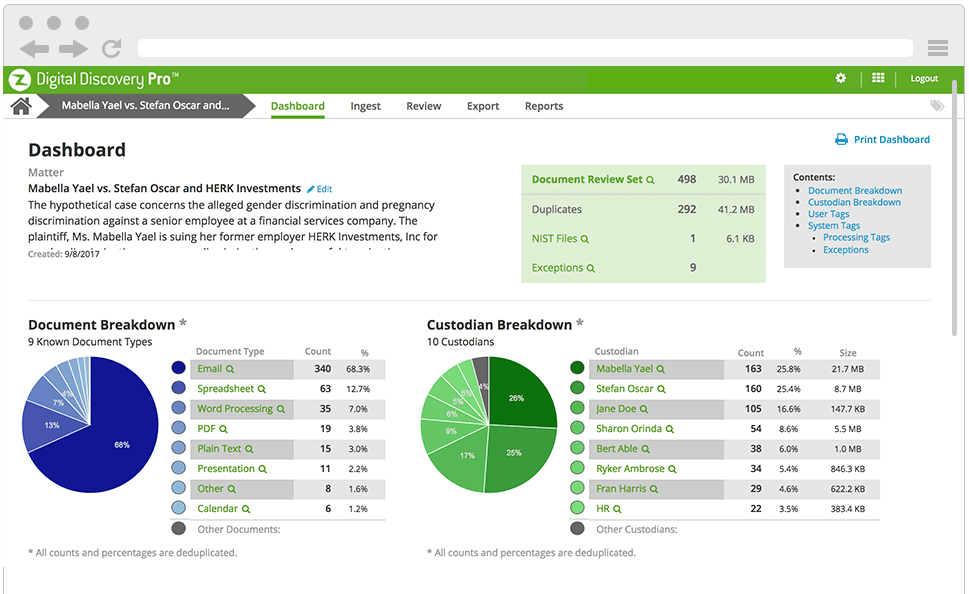 Minimize ediscovery and legal document review costs
Process and cull data in-house before sending to outside service providers, dramatically reducing document review expenses.
Empower your team to manage the document review process for investigations and routine litigation matters.
Eliminate redundant data processing and document review with a searchable data repository that can be repurposed across multiple ediscovery projects.
"Digital Discovery Pro empowers our legal and compliance teams to do more review in-house, which has cut costs dramatically."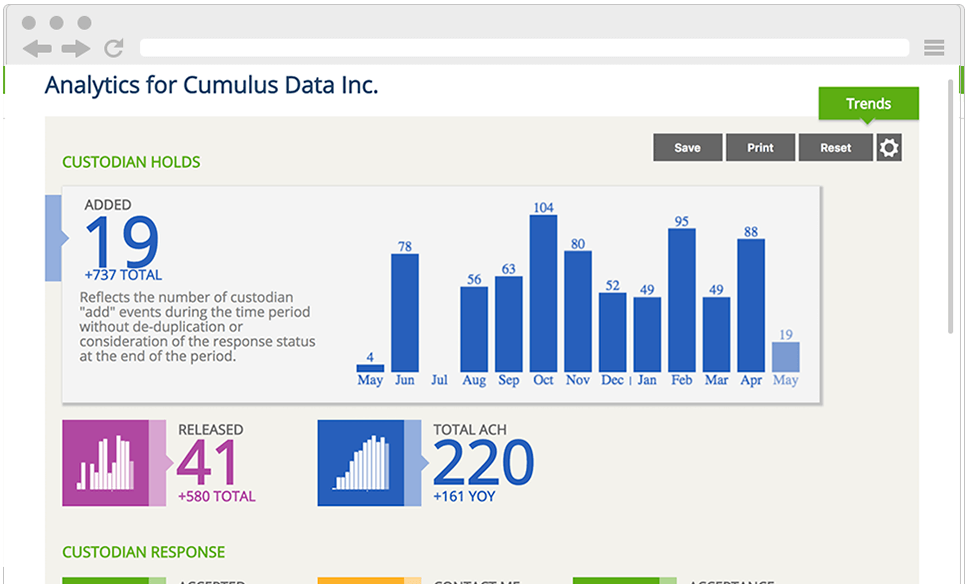 Take Control of Ediscovery
Equip your team with intuitive ediscovery software designed for corporate litigation response and compliance.
Streamline workflows for data preservation and document review to save time, cost and risk.
Minimize reliance on IT and outside document review service providers.
Use automation to effortlessly initiate legal holds, track custodian compliance, share reports, preserve data in place and defensibly collect data.
Rapidly process data and quickly find documents using clear search filters and document review tools.
"The ease of use, reporting and customer service are second to none."
Mitigate Risk with a Defensible Process
Lock down your data with the most secure e-discovery software on the market.
Improve custodian compliance rates with automated reminders
Prevent spoliation with "in-place" preservation holds.
Conduct forensically-sound data collections.
Produce a complete and defensible audit trail of preservation activities.
"The simplicity of the technology makes it easy to describe and defend our processes."
Discover how easy corporate ediscovery and litigation response can be.
Super Secure
Don't leave data security to chance. Zapproved's world-class security practices and SOC 2Ⓡ Type 2 certification keeps your data accessible, safe and secure.
Corporate Friendly
Simplify daily workflows with intuitive software and a predictable pricing model designed for the needs of corporate legal teams — not law firms.
Seamless Scale
Zapproved's cloud-native architecture delivers lightning-fast performance and makes it easy to scale for growth without investing in infrastructure.









Discover why leaders love ZDiscovery
"The ease of use, reporting and customer service are second to none."
Request a demo
Take ZDiscovery for a spin
"The system is very intuitive and easy to use, inspiring confidence in the attorneys and paralegals who use it. The simplicity of the technology makes it easy to describe and defend our processes, report on status and issue holds in a timely manner."