Get Rapid Insights with In-House Early Case Assessment
With the right balance of technology and processes, Early Case Assessment helps you quickly make decisions about how to proceed.

Quickly uncover crucial information and make informed decisions about case strategy.

Outsourced ECA is expensive and slow
It can take weeks for a service provider to upload, process, and analyze data. Combined with fees of up to $80 per gigabyte, outsourced ECA is simply too expensive and too slow.

Legacy processing systems can add weeks to ECA timelines
First generation application like Clearwell and IBM Atlas can take weeks to process data and are generally so complex that only a few internal resources can do the work, leading to additional bottlenecks.
ZDiscovery Review accelerate ECA timelines

Make faster, more informed decisions
Quickly process data, then use intuitive search filters to uncover essential facts to make faster, more informed decisions about how to proceed.

Reduce the cost of ECA
Empower your team to manage the entire ECA process in-house, which can reduce your expenses by 90% or more.

Enjoy unrivaled customer support
Enjoying ongoing support from our Customer Success team and tap into our expansive community to connect with your ediscovery peers.
Data processing would have taken one to two weeks before. Now it takes just one to two days.
Additional Reading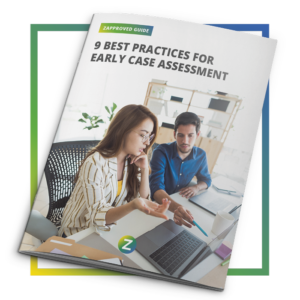 9 Best Practices for Early Case Assessment
The top ways to drive down discovery costs and make better case strategy decisions.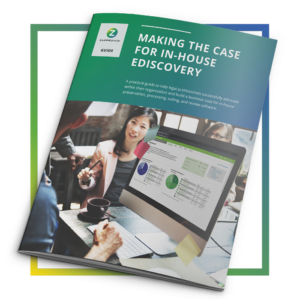 Making the Case for In-House Ediscovery
How to successfully advocate within your organization and build a business case for in-house preservation, processing, culling, and review.