Every Zapprovian adds a unique perspective to our team and we wouldn't have it any other way.
From volunteer events to company celebrations, Zapprovians care about each other and the community.

We love our LGBTQ+ community all year round and look forward to being a part of the PRIDE celebration every June.

Virtual celebrations, Halloween pet costume contests, passionate Slack channels, and virtual karaoke are just a few of the ways we stay connected when we can't be together in person.

Our chic Slabtown headquarters is LEED Gold Certified and we run a green office so we can be proud of the space we work in.

#BlackLivesMatter. Whenever possible, we support businesses owned by BIPOC individuals, women, and members of the LGBTQ+ community.

Our community partners make us better. Together, we support equitable access and representation in technology.

Self-care is Zapproved care. Our flexible work from home model, interactive wellness challenges, and robust benefits empower us to work better.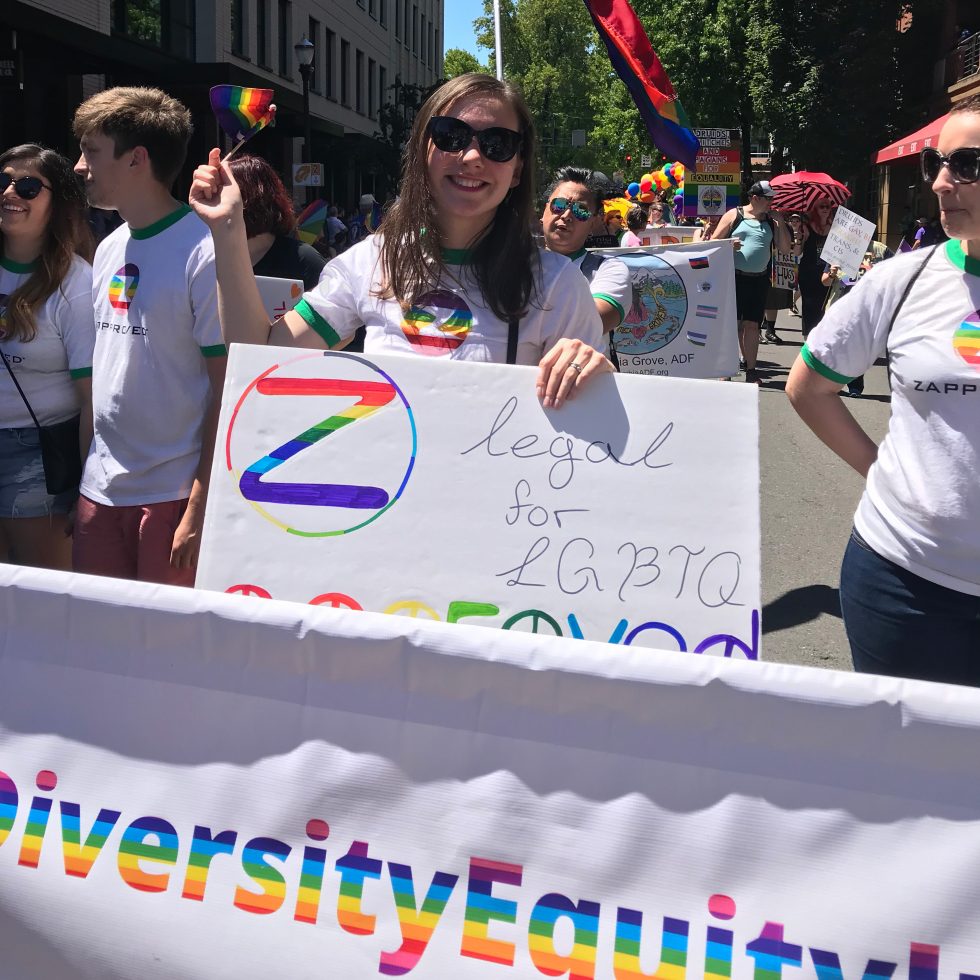 We are committed to meaningful representation
Among executive leadership, 60% are women
Our five-person Board of Directors is comprised of three women (including Chairman of the Board) and two people of color
Our workforce is comprised of 44% women and 56% men with 20% self identifying as BIPOC
Our dedicated Manager of Workplace Experience, Diversity & Inclusion coordinates recurring DE&I employee training sessions with local, regional and national thought leaders
We were recognized for our DE&I programs by the Technology Association of Oregon with their 2020 Inclusive Innovation award
Our vibrant community makes us stronger
The events we host and support are free and open to the public, because we believe that with the help of our community, we can make real, lasting change. Join us for an upcoming equity and inclusion event.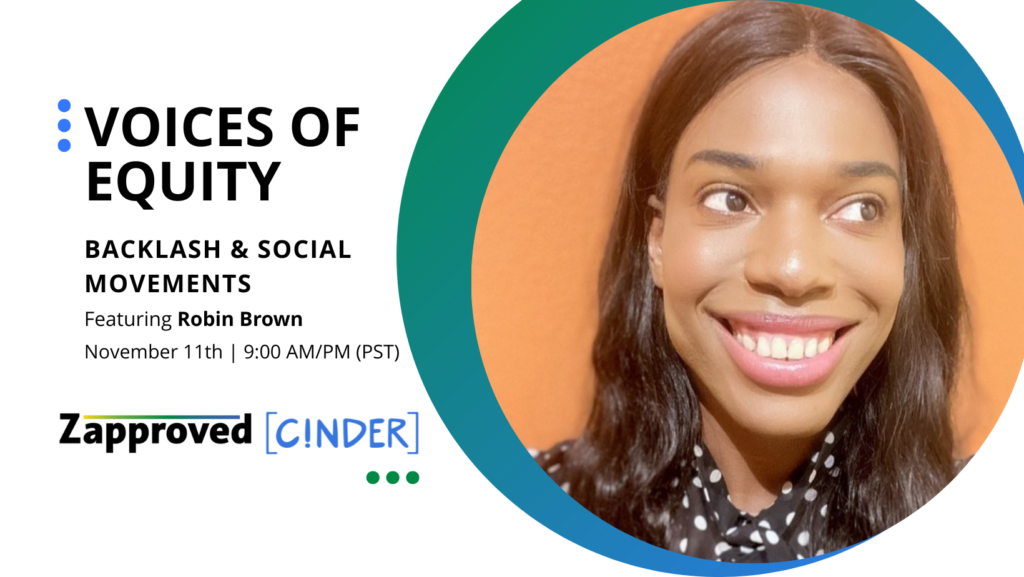 We invite you to join Zapproved and Cinder for a discussion facilitated by Robin Brown on strategies we can use to hold firm in the face of resistance.
Within the last 5 – 10 years we have seen more visibility of trans folks in media, more Women & Women of Color in government, and large social justice movements. However this has been followed by the overturning of Roe v Wade, weaponizing of "Defund the Police", fear mongering of "Critical Race theory", and the filing of over and 240 anti-LGBTQ bills… (Deep breath) There is something about this moment that feels familiar. A pattern that we have lived over and over again, and that pattern is the backlash inevitably tied to social progress.
In order to make our way through this Backlash with our dignity and humanity intact, it's first important that we shine a light on how it operates on both an interpersonal and structural level.
Join Robin Brown, Facilitator and Strategist at Future Work Design as she discusses the downward swing of the pendulum in the fight for equality and the strategies we can use to hold firm in the face of resistance.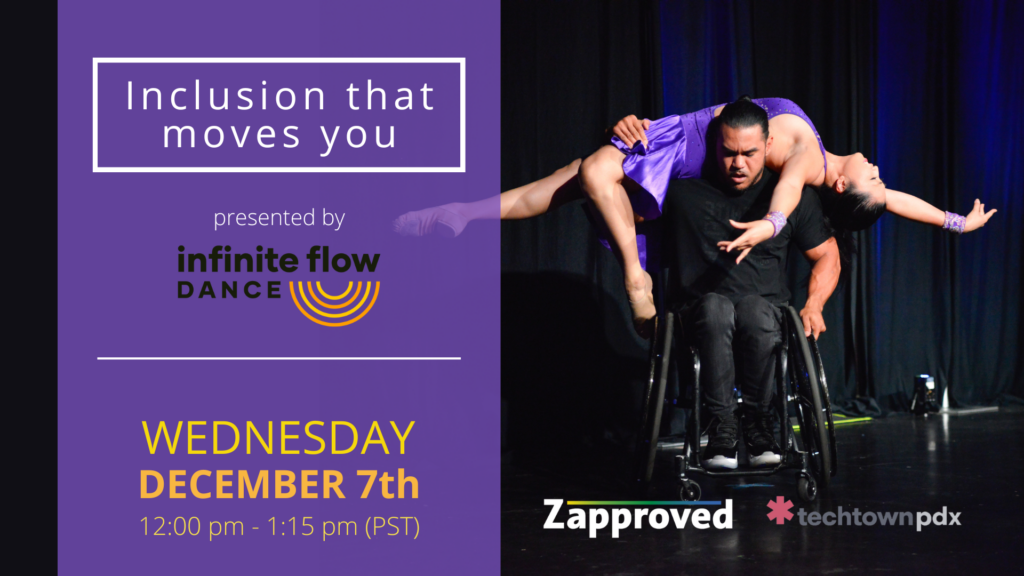 Join Zapproved for a reminder by Infinite Flow Dance Company that taking action is more than words and workshops, it requires you to get moving in the right direction.
This year Zapproved has focused on action. We started with turning awareness into action, then we workshopped creating our own personal equity roadmaps, and then we learned how to hold ourselves accountable to these actions.
And now we will be joined by the Infinite Flow Dance Company to remind us that taking action is more than words and workshops, it requires you to get moving in the right direction. We want to awaken you to the infinite possibilities of disability inclusion.
1 in 4 Americans, that is 61 million Americans have a disability. Disability is the one minority group that anyone can enter at any given time. Yet, disability is often either forgotten or mentioned last in the conversation of diversity, equity, and inclusion. Led by Marisa Hamamoto, founder of Infinite Flow, a professional dance company that employs disabled and nondisabled dancers with diverse, intersectional identities with a mission to dismantle biases and promote inclusion, and joined by a few Infinite Flow artists, this will be a soul-filling conversation destigmatizing and demystifying disability, and how each of us can be an ally to one another.
We would like to thank TechTown for sponsoring our 2022 Ally Lunch & Learn series. We appreciate your support the last two years and value you as a partner bringing amazing folx to the stage to take the mic!
Want to become part of our team?
We are hiring amazing people like you.