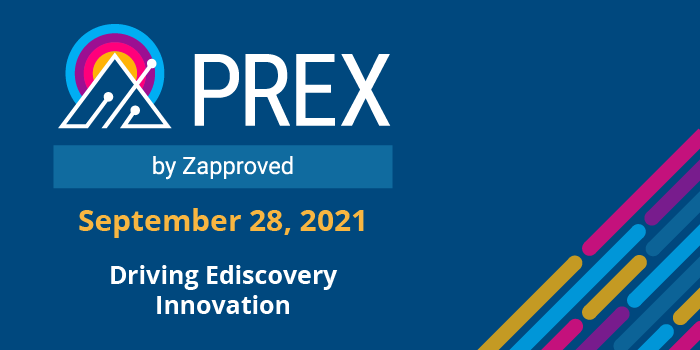 PREX is more than a conference. It is a community. Since 2012, PREX has been the place for legal tech professionals to talk shop, connect with peers, and learn from each other. This year is no different, and while the event might be virtual, we will be offering tons of real-world insights into the world of corporate ediscovery.
Learning From Your Ediscovery Community
The community is the key reason to come to PREX, and the key reason people come back year after year. We offer so much more than just breakout sessions and keynotes. At its core, PREX is about introducing you to colleagues, whether they're across town or across the country, who are navigating the same challenges and successes that you are. With the knowledge that our community drives us to constantly become better, who better to learn from than peers who are facing the same problems day in and day out.
Driving Ediscovery Innovation
PREX has always been and will always be about driving innovation. With technology changing so quickly, it can feel impossible to keep up. It's critical to devote time to learning about new technologies, the legal ramifications of those technologies, and (of course) how teams are leveraging new technologies and ideas to achieve better outcomes.
In this spirit, this year's theme is all about innovation. PREX21 will be devoted to new technologies, explorations of new legal challenges, and innovation within corporate legal teams.
Gaining Real-World Insights in a Virtual Way
This year PREX21 will be a virtual, one day event on September 28th from 10AM to 6PM ET. Though this year's event will be virtual, that won't stop us from sharing thought-provoking, actionable insights into the world of corporate ediscovery.
This year's event will feature breakout sessions that are carefully curated to deliver useful strategies as well as earn participants CLE credits. We will also have a number of keynotes featuring the luminaries of ediscovery serving up a healthy dose of inspiration and motivation to move your career forward. In addition, there will be all-access networking, giving participants the chance to meet, connect, and mingle with industry colleagues from leading companies.
Ready to explore big ideas and gain actionable insights into the art and science of ediscovery?
Sign Up Now to Attend the #1 Ediscovery Conference for Corporate Legal Teams
Register Now