2016 marks recognition for the second year in a row among top growing companies in Oregon and S.W. Washington
Zapproved, Inc. a pioneer in developing cloud‐based software for corporate legal departments, was named #23 on the Portland Business Journal's Fastest-Growing Private 100 Companies in Oregon and S.W. Washington. The event held on June 16th at the Oregon Convention Center, ranked the top 100 companies by the revenue growth from 2013 through 2015.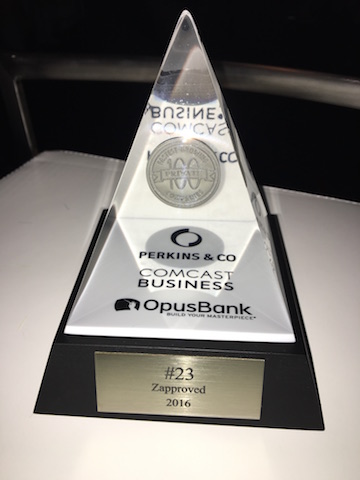 "Zapproved's focus on developing software for corporate legal departments to bring ediscovery management in-house, is enabling them to do their jobs better." said Monica Enand, CEO of Zapproved. "This laser focus on the needs of corporate legal is delighting our customers and has been a key contributor to our rapid growth."
Zapproved Growth Highlights
Zapproved brings power to in-house corporate legal teams with the ZDiscovery platform allowing them to navigate electronic discovery with minimal risk and cost, and it sets new standards for scalability and intuitive design. The company increased market penetration with Fortune 500 companies. Additionally, the recently launched Digital Discovery Pro, a hyper-fast data processing, and first-pass review software, advanced electronic discovery technology significantly with an industry first of exceeding processing speeds of 1 terabyte per hour and reducing costs by 65-90 percent over typical market solutions.
Zapproved's growth is fueled by our great team of people who share the philosophy of learning from customers in order to truly understand the buyer's needs, pains, and delights. The company culture is a unique balance of high standards, respect and a lot of fun. Our guiding principles are: Be real, no excuses, be awesome and be kind. We're looking to add to our dynamic team that is creating next-generation enterprise software. Visit the Zapproved career opportunities page to learn more.