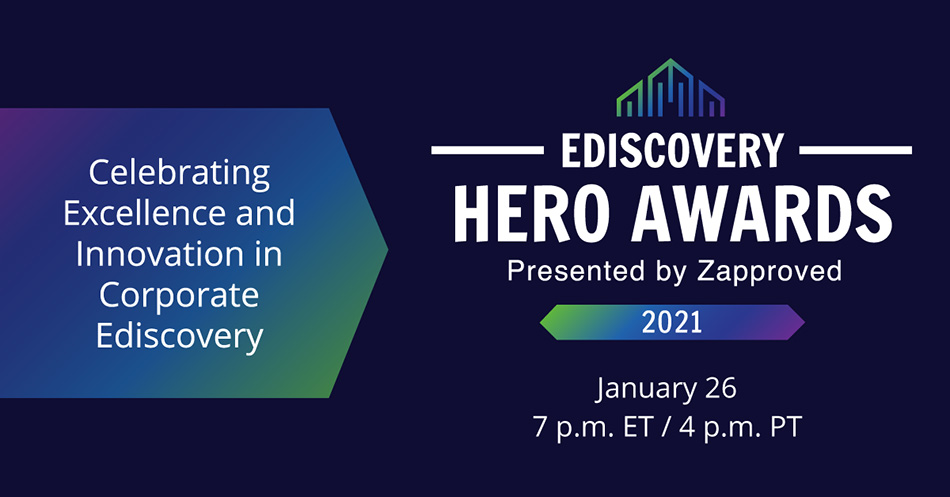 What is the Ediscovery Hero Awards?
Resolutions. Fresh starts. New gym memberships. The Super Bowl… Academy Awards…snow! They're all the telltale signs of January and the arrival of winter. For those of us in the world of ediscovery, this time also typically signals the annual pilgrimage to New York City for a week of networking, learning and sharing as part of LegalWeek – one of the largest gatherings of legal industry professionals seeking to explore new business, regulatory, and technology trends. For the past 4 years the Ediscovery Hero Awards, hosted by Zapproved, has gotten the party started with a night of celebration, awards, food, and drinks that brings together some of the industry's best and brightest.
Well, in 2020 things didn't always look so bright and we learned that being "together" means more than just sharing physical space. The word took on an entirely new meaning as we dug in as an industry and leveraged the power of collaboration to lift each other up. We understood that it meant joining forces to embrace today's tough challenges and explore new ideas around how to solve them. We came together to share our individual skills and achieve overall success. And yes, we got really, really good at coming together using Zoom.
This year instead of packing our suitcases, let's join together one more time – virtually, and as a community – to honor the corporate legal professionals and teams among us who have gone above and beyond in a year that has been just slightly more challenging. So, dust off your formal wear (yes, they now make sweats with sequins), because Zapproved, along with our esteemed partners EDRM, Stout, Onna, Nuix, ACEDS, and Smarsh, is proud to once again host the Ediscovery Hero Awards on Jan.26, 2021.
Celebrating Ediscovery's Best and Brightest
What makes an Ediscovery Hero? They are the ones who break barriers and encourage innovative thinking to tackle risk, streamline processes and bring predictability to ediscovery. They do more with less, simplifying complex functions to strategically control costs and save time. And perhaps the most meaningful this year, they actively voice inequities and injustices and are working to create more diverse teams for and within their communities. Throughout the event, we will hear the stories of these remarkable nominees and the forward change they have brought to our industry as a whole.
The best part of any good party is the conversations you get to have and the new (and not-so-new but deeply missed) people you get to connect with – so in addition to having some fun recognizing our colleagues, the night will also include time to mingle in smaller, more intimate groups hosted by industry leaders from companies like Phillips 66, Viacom CBS, JP Morgan Chase – and lest we forget, our esteemed Judges! Especially Judge Shira Scheindlin, who will be giving her namesake Lifetime Achievement Award to the ediscovery icon Maura Grossman!
Meet Our Incredible Keynote Speaker
To cap off the event, and inspire us all as we forge ahead into 2021 with renewed vigor and spirit, we are honored to introduce Justice Adrienne Nelson as our keynote speaker. Justice Nelson was appointed to the Oregon Supreme Court on January 2, 2018, making her the first African American to sit on the state's highest court and on any appellate state court. Her election to a six-year term in November 2018 made her the first African American woman elected statewide in Oregon. Justice Nelson will discuss our current challenges and the incredible potential for how people can come together, learn from successes and failure, and discover actionable ways to get involved and make a difference.
So, let's kickoff 2021 in a heroic fashion. Can't wait to see you all there.