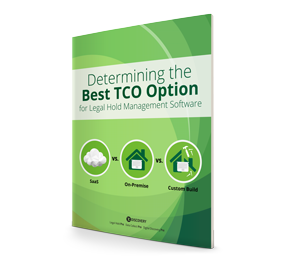 SaaS solutions represent a true pro-customer paradigm in software delivery and are an attractive alternative to legacy-laden IT landscapes. Built on the principles of multi-tenant efficiency, massive scalability, and metadata-driven configurability, SaaS offers organizations the best of both worlds – a best fit, state-of-the- art technology platform that is also cost-effective.
Also, today's legal hold end-users — custodians – demand an exceptional user experience. This includes near-100% uptime, tight service level agreements, and flexible access in a familiar environment. SaaS applications bridge the gap between custodians, legal and IT to create an empowered organization without unnecessary complexity.
Compared to both On-Premise and Custom Built solutions, the SaaS model clearly drives TCO to more attractive levels for both SMB and Enterprise organizations and greatly reduces overall implementation risks. Organizations can make an accurate, apples to apples comparison by understanding the complete TCO implications of a new software solution. This understanding is what leads to the best business decision regarding new software.
Need more help determining the best TCO option for legal hold management software? Download the guide, "Determining the Best TCO Option".