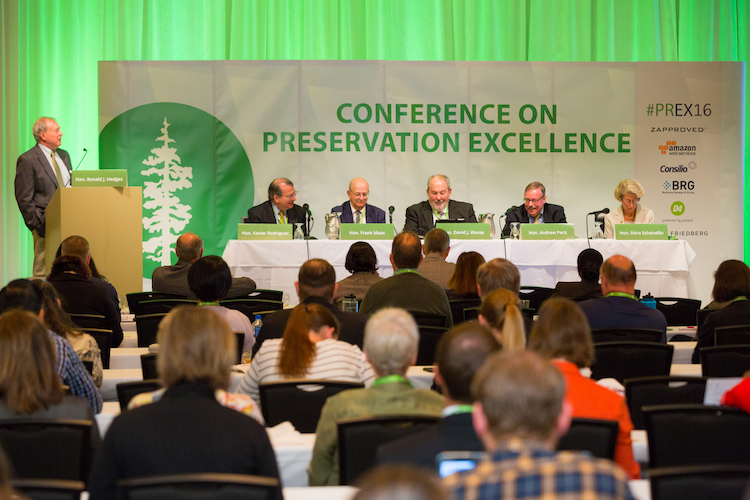 Highlights and Insights From the Best PREX Ever
From leading experts and judges to in-house counsel, last week we welcomed the top minds in electronic discovery to the 5th annual PREX Conference on Preservation Excellence. The result? Inspiration and education with in-house ediscovery teams specifically in mind.
Thought leaders in the ediscovery industry came and shared their knowledge and advice on best practices they employ in their organizations. Access the well-prepared content to learn from what was presented and discussed at PREX16. Also, check out the live streams on LinkedIn, Twitter and Facebook using #PREX16. Together, we spoke, listened and learned new ways to move the ediscovery industry forward.
Thanks to the esteemed PREX faculty and audience who helped make the conference educational and informative. Here are a few highlights to take back to work and into 2017.
PREX16 highlights
Brush with greatness. PREX16 witnessed the most influential person in the history of ediscovery — the Hon. Shira Scheindlin — recount her career and contribution to historic decisions. It was her first public appearance on electronic discovery since her retirement.
In addition to discussing the landmark opinions she made in Zubulake and Pension Committee, Judge Scheindlin shared inspiring advice about staying strong and true to what one believes is right in the face of strong opposition.
Practical magic. The new PREX Practicals scored big with audiences, attracting huge attendance and sparking debate on useful, everyday ediscovery challenges and best practices.
Future forward. Here's a snapshot of some of the many innovative moments:
Zapproved's own Monica Enand delivered a PREX keynote, capturing why technology and legal must coincide to meet the future.
In the Emerging Technologies session, Craig Ball road mapped data's great migration into digital everything and how to harness its omnipresence during ediscovery.
To wrap the conference, Intel's Dr. Tony Salvador presented a vision for mapping the digocene, where data coalesce. These insights fuse social science with technology to better understand connectivity patterns and data governance.
Time intensives. The Case Law by the Clock session featured a panel of judges who reviewed 12 cases in an hour, lending understanding about the effect of the amended rules on recent cases — and presenting summaries of the key elements in each case with the clock ticking!
Thank you, judges, for your patience and perseverance:
Hon. Frank Maas, U.S. Magistrate Judge, United States Southern District of New York;
Hon. Xavier Rodriguez, United States District Judge for the Western District of Texas;
Hon. Shira Scheindlin (Ret.), Stroock & Stroock & Lavan LLP, Former United States, District Judge for the Southern District of New York;
Hon. David Waxse, U.S. Magistrate Judge, United States District of Kansas;
Hon. Andrew Peck, U.S. Magistrate Judge, United States Southern District of New York;
Hon. Ron Hedges (Ret.), Senior Counsel, Dentons US LLP, New York, NY & Short Hills, NJ, and former United States Magistrate Judge in the United States District Court for the District of New Jersey.
Camaraderie ruled. Conversations flowed at the reception and dinner, during discussions and breaks, and even when catching speakers after their presentations. During sessions, people asked great questions and stayed from the beginning to the end.
Best attendance! With more than 150 attendees, including speakers, partners, and experts from the ediscovery community, attendees of PREX16 enjoyed networking, and benefited from the exchange of ideas and learning from fellow in-house ediscovery professionals.
Onward
PREX takes a village of supporters, partners, faculty and staff. With hard work, creativity and a commitment to excellence, together we achieved incredible success. Thanks to all in the community who were a part of this year's PREX. Every year we strive to make enhancements. PREX16 included changes and improvements based on your feedback. Please share your ideas and suggestions for making PREX17 even better. We want to hear from you!
Together, let's help build ediscovery mastery for the future. Learn more about joining Zapproved at PREX17.
Related stories
#PREX16 tweets
Zach Warren Interviews Brett Tarr of Caesars Entertainment regarding e-discovery education
Zach Warren Interviews Woods Abbott of Raytheon regarding preservation challenges and terminated employees
Zach Warren Interviews Brad Harris regarding changes in preservation views over past 5 years
Zach Warren Interviews Monica Enand regarding investment in legal tech companies