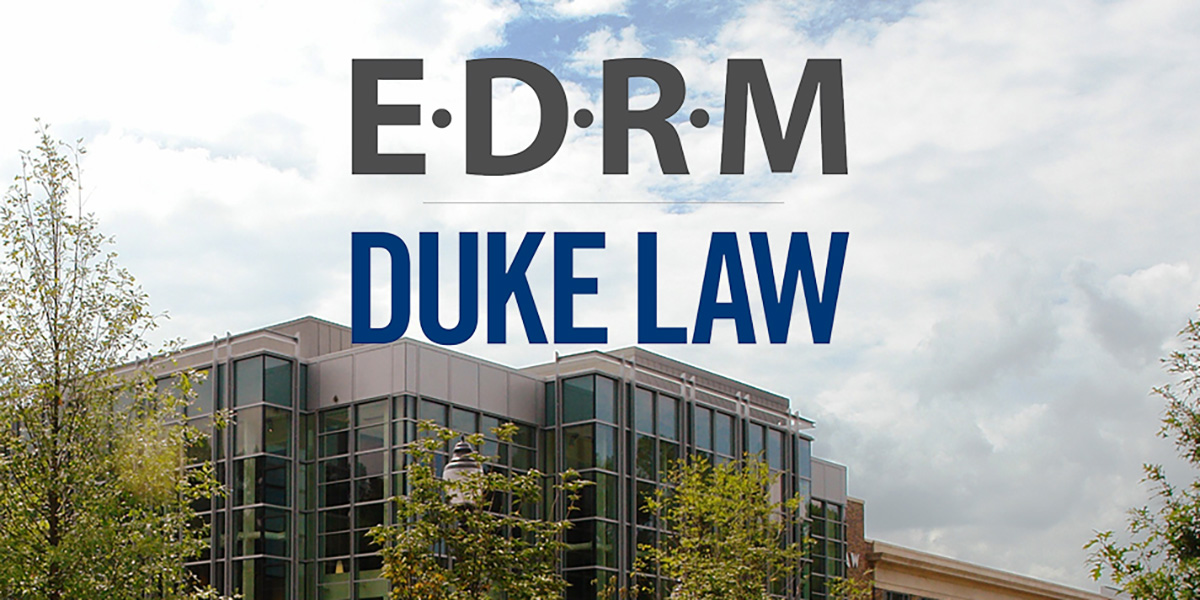 Notes from Duke Law School's Annual EDRM Workshop
By Brad Harris
What's new in the world of EDRM?
Earlier this month, I had the pleasure of participating in the2019 EDRM Workshop at Duke Law as a member of their recently formed Advisory Council.I have a long history with EDRM from its earliest days, and appreciated the opportunity to get reengaged with this dedicated group of practitioners. A major objective of the workshop was to hear updates from the various project teams, including reviewing the recently published TAR Guidelines paper and experiencing first-hand the work of the GDPR Project team on cross-border discovery training. All nine ongoing projects promise to deliver thoughtful and authoritative work. I especially look forward to the work of the EDRM Revision team as they work through each phase of the current model to produce updated materials and commentary.The workshop also featured insightful panels, which included discussions about cost recovery, dealing with mobile devices, and the use of AI from exceptional in-house experts (Robert Levy, ExxonMobil; Jana Limer Mills, American Airlines; and Kelly Clay, GSK).Six current and former Federal judges were in attendance, giving us the opportunity to hear the judiciary point of view on ways to improve discovery, foster cooperation, and encourage greater reasoned inquiry by the parties. And over dinner, I learned that Hon. James Wynn (Court of Appeals for the 4th Circuit) is an incredible story teller and road-trip aficionado.
What's Next?
I'm particularly excited about participating in the new Proportionality project that aims to develop a framework and templates for more effective use of proportionality in discovery. I look forward to working with the team on this topic, particularly around digging into proportionality as it applies to the preservation phase. The team will no doubt build upon the outcomes of Duke Law Bolch Judicial Institute's Distinguished Lawyers Conference (June 20-21), which will focus on the 2015 Rule 26 proportionality amendments.The EDRM Workshop is a highlight of the year, and as is often the case with ediscovery get-togethers, the topics were timely, the Duke University campus outstanding, and it's always a pleasure to catch up with friends old and new.