The days of resistance to moving enterprise systems and data onto the cloud are over. The benefits of greater security, affordable total cost of ownership, and the scalability of computing resources, make the cloud the logical choice for businesses of today. Critical to smoothing the adoption process of enterprise systems over to the cloud is the ability to connect it with existing enterprise systems so that information can be shared back and forth, amplifying the value of each system.
For example, automating the legal hold notification process is one of the best ways to ensure that custodians are receiving litigation hold communications and that custodian acknowledgements are being tracked in order to demonstrate defensible preservation practices. HoldLink, Legal Hold Pro's API, makes it possible for data to transfer securely between systems, allowing corporate legal teams to not only automate legal holds, but also automate workflows that identify changes in equipment or employee status. HoldLink enables easy integration with multiple outside systems such as data feeds from different systems-of-record, such as from Active Directory, HR, or other IT systems. Data feeds do not need to be consolidated by the customer, nor are they required to have the same data elements between different feeds. New data feeds can be added at any time, and data attributes within the file can be revised simply by adding or removing them from the data feed. 
Flexible to work the way you do
Importing contacts into Zdiscovery Legal Hold Software module is extremely flexible using HoldLink. There is no required data schema, meaning fields in Legal Hold Pro are flexible and can be named to be consistent with your current systems field naming conventions. Customers can also specify which data elements they want to maintain in their custom address book. Furthermore, customers can name their data attributes using their own preferred labels so they can search for familiar terms within Legal Hold Pro. Zapproved also allows contacts to be updated using the customer's own unique key field (such as Employee ID). With each upload, existing contact records are automatically updated and new records added, all performed seamlessly in real-time as the data is being transmitted.
Additionally, importing matter information is easy and accelerates the pace of implementing a legal hold notification. Legal Hold Pro connects via HoldLink to matter management systems which then automatically pushes key matter information into Legal Hold Pro. This enables draft holds to be set up automatically based on the case information and using the hold templates saved in the system. Users simply have to log in, add the appropriate additional information or recipients, and send the hold quickly.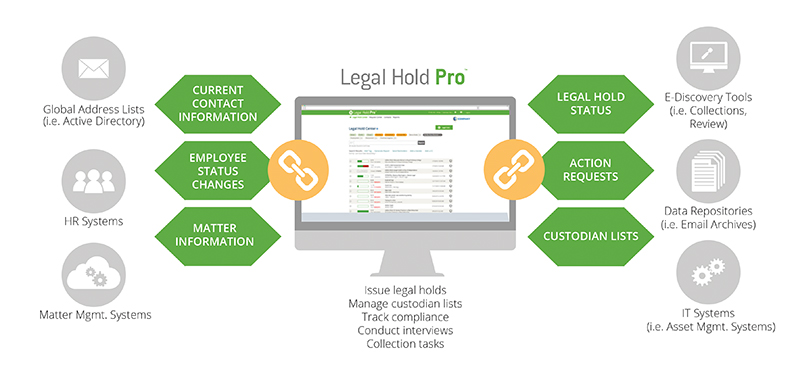 Your data is always secure
Data being sent to Zdiscovery Legal Hold Software module Pro is streamed to the application via HTTPS and immediately processed, avoiding any need for files to be first decrypted, or have access to shared encryption keys or passwords. The customer also controls authentication and authorization, which can be readily invoked or removed.
Ready to learn more?
HoldLink for Legal Hold Pro provides a secure, universal gateway for exchanging critical data with enterprise application systems and electronic discovery tools. The bi-directional API passes information so that Legal Hold Pro can receive updated contact and matter information and also forward custodian data and collection requests to popular collection and processing software tools — automating data preservation and making the process trackable defensible. Contact us to learn more about how HoldLink can help improve your ediscovery process.