The costs of ediscovery are mind-blowing. Despite the technologists who announce advancements in storage, search and retrieval software to help drive down the unit costs, the frequency and sheer volume of ediscovery pushes costs in the opposite direction.
Traditionally, organizations facing ediscovery responded by identifying key players, collecting all of their data, using technology to reduce and cull irrelevant data as best they could, and hiring rooms full of attorneys to review the remaining emails and files. Even with the best of technologies, a typical custodian yields $15,000-$100,000 in discovery costs.
Intelligent Preservation Strategy Reduces Effort, Cost – and Risk
There is a better way: Intelligent Preservation. Start with the fundamentals, and use them to your advantage. In doing so, you keep your preservation response reasonable, in good faith, and proportional to the risks and exposure of a given case.
The foundation of Intelligent Preservation is a sound legal hold notification process. This need not be a complex or overwhelming task. The standard is not perfection as Judge Scheindlin pointed out in Pension Committee, but reasonableness and good faith coupled with competency.
The following six elements have become imperatives to meet higher standards of preservation, mitigate the increasing risk of costly sanctions, and better prepare for adversaries that can challenge an opponent's preservation efforts when a flawed legal hold becomes a shortcut to victory:
Proportional and cost-effective response
Ability to act immediately following a triggering event
Visibility of the custodians and real-time tracking of compliance
Detailed audit trail of actions
Process automation for repeatability and cost-efficiency
Strong internal communications to reinforce the importance of the preservation process
Intelligent Preservation Strategy Allows You to Preserve Immediately, Collect (and Spend) Only When Necessary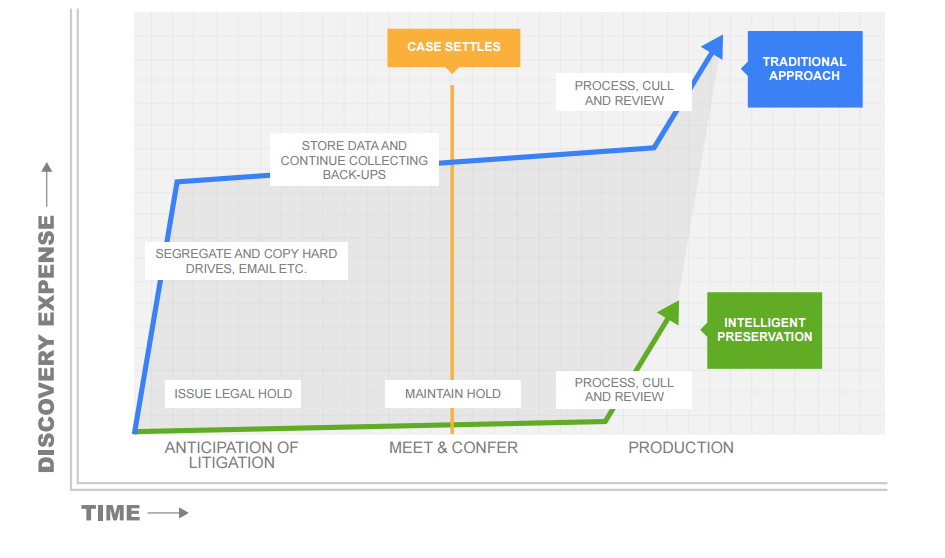 Adopting Intelligent Preservation means that data is kept in a routine manner of business immediately when litigation can be anticipated. It provides a defensible audit trail to demonstrate thorough, repeatable, good faith efforts to preserve. It includes routine follow-up and reminders, giving you the confidence to defend your actions when challenged (and keep the discussions focused on the merits of the case). Such confidence provides for negotiating the scope of discovery from a position of strength and avoiding additional electronic discovery expenses until they become necessary.
The result will be lower discovery cost and mitigated risk, without self-imposed monetary sanctions. Intelligent preservation allows you to take control by having visibility and analytics to enable a 'preserve-in-place' strategy so data will be available when it is needed – and not a moment sooner – resulting in a stronger bottom line.

Why Legal Hold Pro is Your Smartest Ediscovery Investment
Investing in a tool like Legal Hold Pro allows you to have Intelligent Preservation in a timely and extremely cost-effective manner. Because Legal Hold Pro can be implemented in a day, you'll immediately start getting returns on your investment. By employing best practices, you mitigate risk of inadvertent spoliation and increase your ability to effectively negotiate fair and reasonable scope of discovery, facilitating both proportionality and collaboration.
You collect, process, review and produce only that which is necessary. With automation, you save countless hours that can be immediately applied to more important and impactful tasks. With a common database of legal holds, you can effectively evolve away from a "preserve everything forever" mentality and start managing tasks like employee departures or disposing legacy data with ease.
You develop a knowledge repository that can inform other ediscovery readiness initiatives, be it investing in improved information governance or education and training. And with confidence, you keep the focus on the merits of the case and not on discovery about discovery.