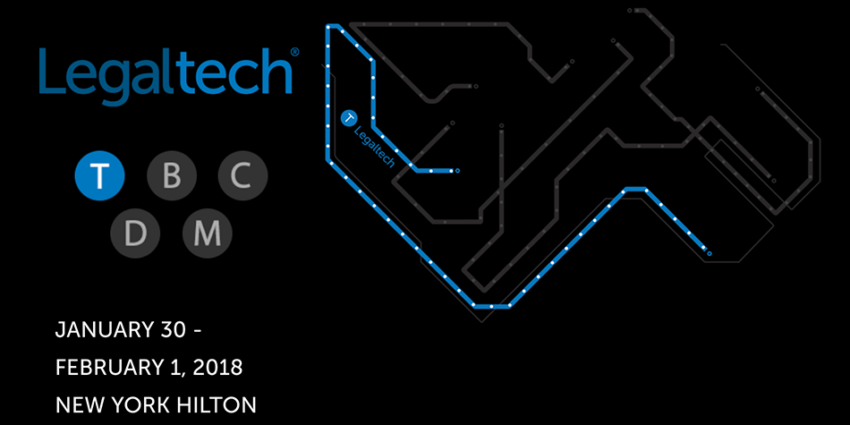 Legaltech NY is one of the premier technology conferences for ediscovery, but it's not logistically feasible to attend every session. With a high number of ediscovery-relevant sessions to choose from, you may be struggling to plan the best progression for your conference time. We've got you covered — we've analyzed all the sessions and whittled it down to a program which hits all the major points for your ediscovery experience.
10:45am – 11:45am
Session: Social, Mobile, Cloud – Welcome to the Next Generation of eDiscovery
Why You Should Attend: For years we've seen how data is expanding into new channels, highlighted by the proliferation of social media and personal devices used by the workforce. Despite this diversification, the core of business communication reamined rooted in email. That bedrock truth is now beginning to truly change. And with that change, we're not looking at a 1 for 1 replacement with one platform taking over email's place — communication channels are mushrooming. Recent legal cases indicate that the courts expect any relevant source to be preserved and planning ediscovery response strategy for a splintered communicaton landscape is going to be much more challenging than the comparative simplicity of email. This session will dive into the impact of these new channels and suggest strategies for governing your litigation response.
12pm – 1pm
Session: Forecast Calls for Cloud Computing- Lawyers Are In Full Bloom When They Embrace What the Cloud Can Do For Them
Why You Should Attend: The Cloud is both the present and the imminent future. This session description notes that within the next year 80% of all IT budgets will be directed to Cloud-related solutions. Your business may already primarily operate in the Cloud, but as with any new frontier, developing best practices that ensure efficiency and safety is essential. This session should be a valuable exploration of the specifics on using legal technology in the Cloud.
2pm – 3pm
Session: Rise of the Robolawyer – Increased Efficiency While Overcoming Disruptors to Your Career by Embracing Cutting Edge Technology
Why You Should Attend: If mastery of the Cloud is the the immediate need, then visionary planning for the next 5 to 10 years requires an understanding of how automation and artificial intelligence will alter the business landscape. How will your ediscovery function when handled by AI? How should your process change when automation frees up your time? The technological seeds of this change are already in play, so this session should act as a good primer for legal professionals to understand the opportunities inherent in our rapidly developing tools of automation.
3:15pm – 4:15pm
Session: The "Internet of Things" and Other Emerging Data Sources: Where Privacy, Proportionality, and Technology Intersect
Why You Should Attend: Right now we enjoy the ability to activate our televisions and home lighting using third-party, voice-activated devices. Soon our refrigerators will be sharing key information — how many times it was opened, what items were removed, which food has gone bad and needs to be reordered— with third-party grocers and marketers who want to know your eating habits. With the Internet of Things, we will live in a world of billions of interconnected devices. Now imagine handling your electronic discovery needs, not to mention information security, when data is shared by countless devices. Clearly it won't be possible to account for all of that data in court, so the question becomes about which 'reasonable' expectation will become the new standard. Each emerging data source on its own is a unique consideration. All of them connected is a strategic imperative.
11am – 12pm
Session: The Future of Law is Now: A "How to" Discussion of Innovation and Massive Transformation
Why You Should Attend: Your first day was loaded with technology, primarily examining the exploding capabilities and complications resulting from new tool capability. Now it's time to focus internally on how your legal department positions itself. This session addresses the need to adopt a new departmental perspective and culture, starting with staffing needs, moving into process development and ending with analytics. The ediscovery component of your litigation response strategy must be approach holistically, aligned with your tools and personnel, and structured to remain agile.
1:15pm – 2:15pm
Session: From AI to e-Discovery: Innovation in Legal and Technology Education
Why You Should Attend: By now you have a vision of how technology will be progressing and an idea of how your legal team needs to structure to properly prepare. What's next? The training and educational needs not just for the future legal professionals that may join your company, but also for your valued, existing staff, ensuring that they can grow their knowledge and capabilities to stay current. This session offers the perspectives of the educators — directors of law school ediscovery programs that are guiding the next generation of technologically-sophisticated legal professionals.
2:45pm – 3:45pm
Session: The Metrics Don't Lie: Alternative Ways to Measure eDiscovery Provider Performance & Value
Why You Should Attend: How does your company analyze the cost of data growth? If you're still negotiating unit rates for ediscovery, your bill may end up being much larger than necessary. Part of that solution may involve bringing portions of ediscovery in-house but to begin to understand an appropriate strategy, legal teams need to evaluate their metrics. This workshop aims to deliver ways to understand the true cost of ediscovery, as well as response tactics to hold providers to new performance standards.
11:00am – 12:00pm
Session: The value of Information Governance in prepping for eDiscovery
Why You Should Attend: Designing an information governance program that is scalable, responsive and cost-sensitive is a top line aim for many large organizations. Designing one that can also adapt to handle evolving technologies and data sources should go hand in hand with current needs. Experts from IBM and JB Hunt Transport Services are on hand to share their experiences in managing large scale information governance programs. This is a chance to learn practical lessons from established heavyweights.
1pm – 2pm
Session: Making Disposition Defensible: The Tools You Need
Why You Should Attend: You're at the close of a fascinating, overwhelming three day conference. After loading your brain with all the critical considerations for managing exploding technologies and data sources, along with training, staffing, process design, data security all the other vital considerations, you'll likely need a satisfying topic to close out your conference experience. How about deleting data? Collecting, maintaining and protecting data is wearying work, but conversely it's important to not over-retain. This session will help you know when it's ok to hit that delete button.