In the latest release of Zdiscovery Legal Hold Software, we've unveiled a fresh new look that streamlines and standardizes the user experience across the ZDiscovery Platform. Aligning with our commitment to usability with our customers, we've focused on enhancing the ease of use of the software — resulting in workflows that are easier to perform.
For example, we took a look at the typical customer workflow, and we reflected on how we could make their daily interaction with Zdiscovery Legal Hold better. We've consolidated the choices in the menu bars so they are simpler and more efficient to use. We've also moved the company logo to improve the interface. All of these choices free up more space for more visibility to hold information and primary action items which are now available in straightforward and user-friendly places.
Other usability enhancement include:
Standardized status icons for holds and action requests so you can easily see everything at a glance.

Modernized the action buttons and we've made it easier to find the actions you want to do on each page such as initiating holds, creating action requests, adding contacts, etc.

Unified tags with a modern look and feel to create a familiar user experience throughout the ZDiscovery Platform.

Quick access to other applications in the ZDiscovery Platform from the grid icon on the top.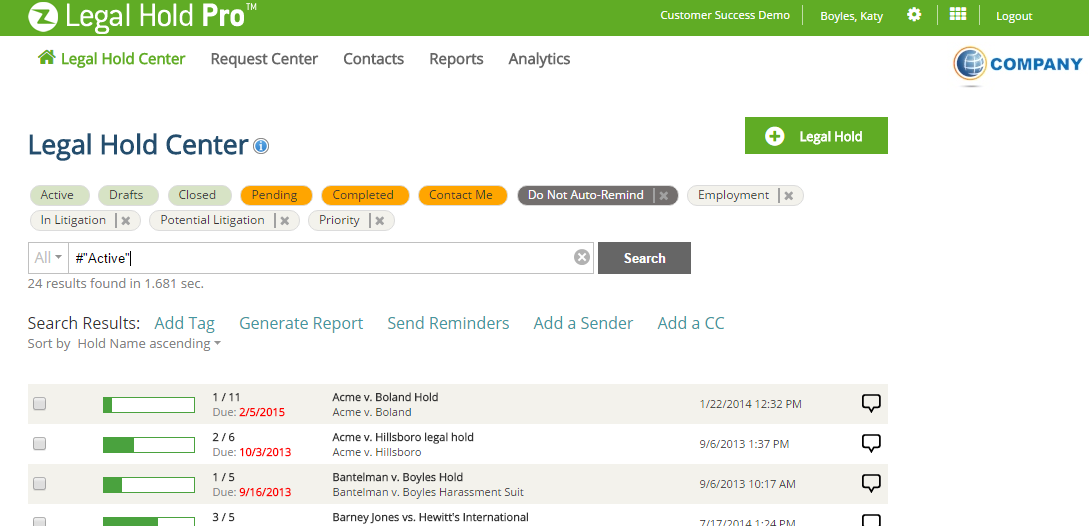 Additionally, we've been working on making improvements to the overall performance of the system so that searches run faster and larger holds perform better.
"We've put a lot of thought and attention to the back-end database work. It may not be glamorous, but it means great improvements for customers' productivity," said Katy Boyles, Zdiscovery Legal Hold product manager. "Customers will experience a system that can handle larger holds faster, experience quicker loading times, and see better performance on the whole."
Overall, we've made changes so the system performs better for customers, continues to be intuitive and easy to use, and addresses our customers' primary needs.
Get started improving the way your company manages ediscovery
At Zapproved, we believe in modernizing ediscovery.  We support forward-thinking corporate law departments that are honing ediscovery into a more efficient process, where more is done by the in-house team to lower downstream ediscovery costs.
Schedule a 15-minute online demo of the ZDiscovery Platform or any of Zapproved's "Pro" solutions: Zdiscovery Legal Hold Software module, Data Collect Pro or Digital Discovery Pro, to see how easy it is to get started improving the way your company manages ediscovery.