Our customers are an important source for product development. In our latest release we've added the Contacts Tooltip and updated the Attribute Search Menu Dropdown, both great suggestions from our customers, to Legal Hold Pro in addition to general system performance improvements.
[Please note: These changes may require you to clear the cache on your browser.]
Contact support@zapproved.com for more information or if you have any questions on these changes.
Contacts Tooltip
A popular feature request from our customers has been for a better way to review various contact attributes (such as Department or Employee ID) from the Contacts page, without having to click into each individual contact record or open separate browser tabs. This is particularly valuable in cases where there may be two or more employees with the same name, but different unique identifiers such as their Employee ID or location. To see the attributes associated with a particular contact, simply hover over the dialog icon to the right of the contact name and email address.
Attribute Search Menu Dropdown
The Attribute Search Menu popup now has a .5 second delay, stopping it from instantly opening the moment you move your mouse across it, or away from it. This allows you to more easily access the feature only when you need it, and makes selections easier. This feature applies to the Legal Hold Center, Request Center and Contacts tabs.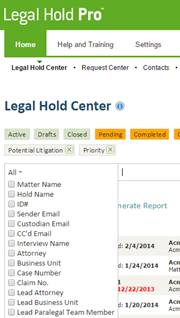 Get started improving the way your company manages ediscovery
At Zapproved, we believe in modernizing ediscovery.  We support forward thinking corporate law departments that are honing ediscovery into a more efficient process, where more is done by the in-house team to lower downstream ediscovery costs.
Schedule a 15-minute online demo of the ZDiscovery Platform or any of Zapproved's "Pro" solutions: Zdiscovery Legal Hold software module, Data Collect Pro or Digital Discovery Pro, to see how easy it is to get started improving the way your company manages ediscovery.