Zapproved's latest release of Legal Hold Pro offers three additional features that increase efficiency for managing your holds: the org hold viewer role, pending hold status, and blackout dates for auto reminders.
The org hold viewer role in Legal Hold Pro, enables customers to effortlessly access all holds in the system and even provide secure credentialed access to outside counsel on an as needed basis.

"This feature allows more visibility for those who need it when they need it, such as an organization's outside counsel, while avoiding lengthy manual processes" – Katy Boyles, Legal Hold Pro Product Manager, Zapproved.
There are many benefits to the org hold viewer feature. We recognize that different members of the legal team need to be aware of all holds in the system. It is easy to imagine a situation where a legal assistant is working on a project and needs to see all holds for the duration of the project. With this new feature, he or she can be granted the global hold viewer access. Not only does this feature give the legal assistant access to all holds, but this access level can also be removed at the conclusion of the project.
Another feature is the pending hold status for Legal Hold Pro which makes sending large holds more efficient. Customers have shared with us that working with large holds is a pain point. With this feature, customers can continue working elsewhere in Legal Hold Pro while holds are in the processing and sending in the background. This ease of use saves time for the customer; they don't have to sit around and wait for the hold to send.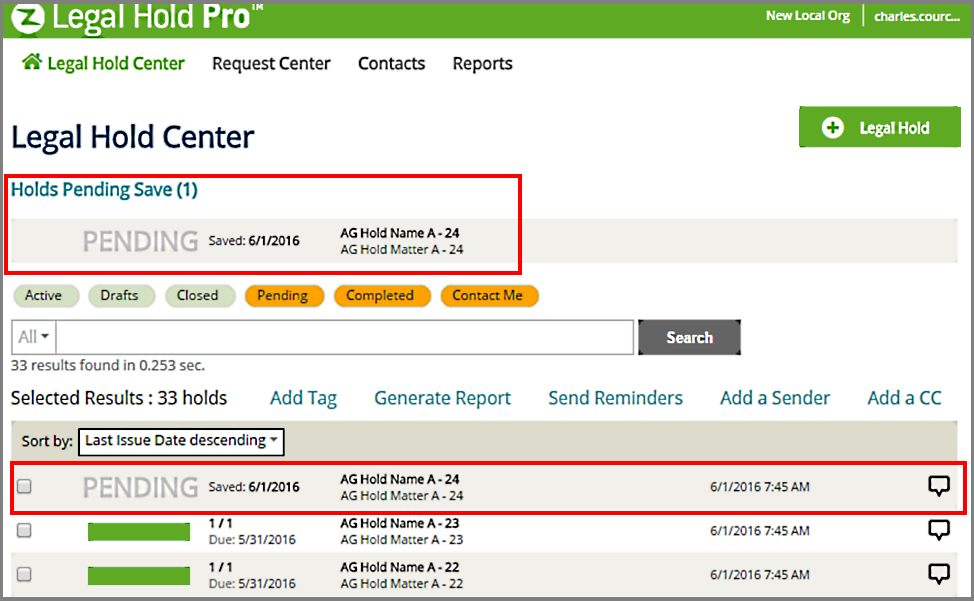 Finally, some customers have expressed a desire to limit automatic reminders to be sent on business days only. With the addition of blackout dates for the auto reminders feature this is possible. The customer has the flexibility to skip weekends or specific days of the week for automatic reminders. This prevents email clutter for our customers and increases the chance that your important legal hold notifications will be noticed and acknowledged.
Interested in learning more?
Buy Legal Hold Pro to save time and streamline your legal holds process! Dive into the benefits of automating the legal hold notification process and how it helps in-house counsel preserve discovery data defensibly. Contact customer success or schedule an ediscovery demo today!