Custodians responding to a hold, but then not answering questions that help you direct next steps? Instead of manually sending reminders or reaching out, now you can have automated past due reminders for interviews so custodians are reminded to go back and respond to the interview.
Zapproved has added Interview Auto-reminders to Legal Hold Pro so custodians who have accepted the hold are reminded to complete the interview as well. Interviews now will follow the same Past Due hold automatic reminder conventions that are available for your holds. Custodians that have not responded to an interview by the associated hold's scheduled due date will receive automated Past Due Reminders that prompts them to fill out the questions.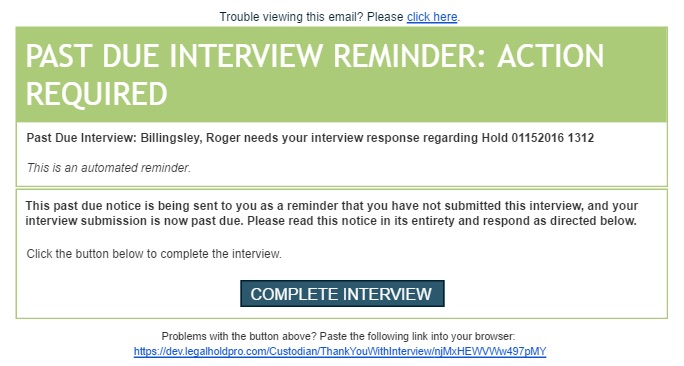 "Today, legal teams are doing a lot manually which can take a lot of time," said Katy Boyles, Legal Hold Pro Product Manager, Zapproved. "With each release of the product, we're aiming to automate more of the small, recurring items because it's a good opportunity to save legal teams time in their workflows— allowing them to focus on strategy and more important action items."
Another time-saving enhancement added to Zdiscovery Legal Hold Software is the power to save preferences for report comparisons primarily used to track changes in custodian employment status, moves within the company, or other relevant changes. Now it is easier for the litigation team to keep an eye on custodians who are changing departments, titles, employment status, etc. Keeping track of this information is beneficial to help determine if collections need to be performed, or to decide if a custodian should be added or removed from a hold.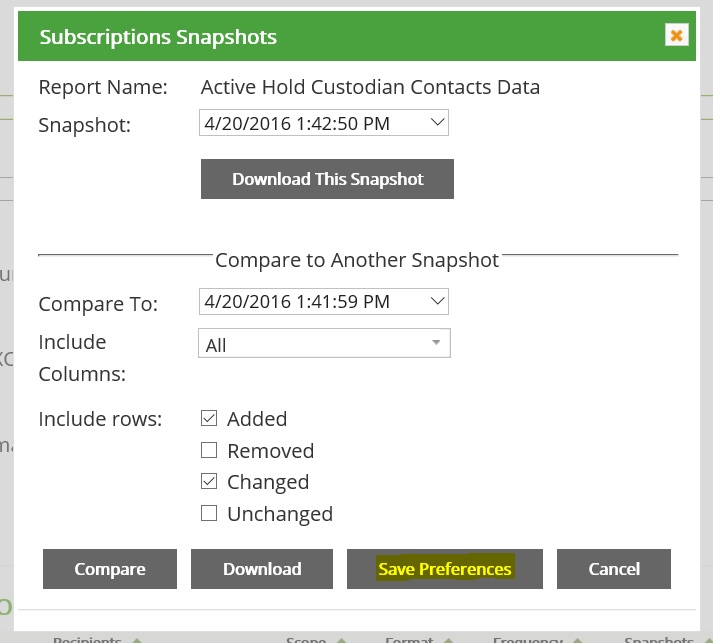 Now it's easy to customize and save the search criteria of the fields for comparison (e.g., title, department, employment status) and set up a weekly report subscription and a comparison to look at changes from one week to the next, showing any changes. This feature saves a lot of time because it's easy to compare specific fields of information and not having to customize your search criteria from scratch each time a version comparison is run—makes the process easier and quicker.
Get started improving the way your company manages ediscovery
At Zapproved, we believe in modernizing ediscovery. We support forward-thinking corporate law departments that are honing ediscovery into a more efficient process, where more is done by the in-house team to lower downstream ediscovery costs.
Schedule a 15-minute online demo of the ZDiscovery Platform or any of Zapproved's "Pro" solutions: Legal Hold Pro, Data Collect Pro or Digital Discovery Pro, to see how easy it is to get started improving the way your company manages ediscovery.