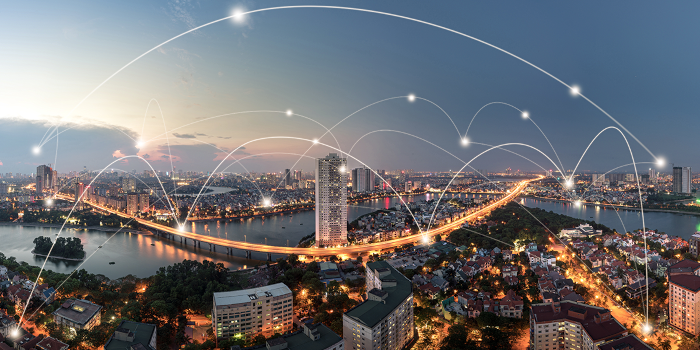 As ediscovery professionals, we're always interested in new data sources and new uses for data. That's why the growing trend toward smart cities caught our eye.
Smart cities gather data from Internet of Things (IoT) devices and other sensors, measuring everything from crime reports and traffic patterns to lighting and energy needs. They then analyze that data and feed it back to citizens and agencies in a way that both improves the lives of individuals and increases the efficiency and effectiveness of the cities' services.
Data analytics can allow cities to predict traffic patterns, alleviating congestion and efficiently directing public transit services; target public safety and social service resources based on up-to-the-minute data about risk factors; and focus energy efficiency efforts where they'll do the most good. Some cities have implemented smart trash receptacles that alert the sanitation department when they need to be emptied, optimizing trash-pickup routes. Others have combined traffic data and environmental measurements to improve urban air quality.
There's another example that's sure to speak to anyone who's ever found themselves endlessly circling a destination in search of the ever-elusive parking spot: smart sensors can notify drivers about available parking spaces as well as open electric vehicle charging stations. Beyond convenience, these efforts can be economically rewarding: Barcelona saved €75 million by adopting smart water, lighting, and parking management programs.
Copenhagen, Amsterdam, Dubai, and Singapore were some of the first smart cities. In the United States, cities from San Francisco and Chicago to Miami and Atlanta have spearheaded data-based initiatives.
While the enormous data streams that smart cities generate have the potential to improve the quality of life for city residents, they also raise the potential for data privacy and data security concerns. Who owns the data that smart cities collect and use, and what can these municipalities do with it? Can smart cities adequately protect any personal information they may collect and maintain compliance with applicable privacy laws like the European Union's General Data Protection Regulation or the California Consumer Privacy Act?
For ediscovery professionals, more questions loom. How much of that data might be relevant to pending litigation matters? Will parties have access to discoverable information?
As cities grow smarter, the accompanying growth in data types and volumes gives all of us in ediscovery new issues to think about. Smart ediscovery professionals should stay current on the various data initiatives that may be relevant to their pending or expected litigation matters, paving the way to integrate data sources that may yield discoverable data.