HoldLink, Legal Hold Pro's API, simplifies legal hold management by making it possible for data to not only transfer securely between internal systems but also allows easy integration with multiple external systems. In an earlier blog post, HoldLink provides corporate legal teams with the ability to automate legal holds and workflows to pull in custodian information and identify changes in equipment or employee status. In addition, there are benefits to HoldLink that improve data compilation as new data feeds can be added at any time, and data attributes within the file can be revised simply by adding or removing them from the data feed. This post will highlight the organizational benefits of using HoldLink to export data from Legal Hold Pro to other key enterprise systems.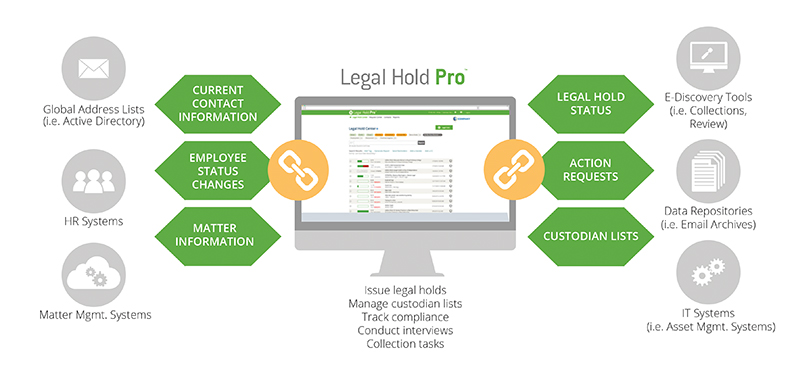 Improve your system connections
HoldLink can be used for accessing data from Legal Hold Pro and transferring it seamlessly into other systems or data repositories. Many Zapproved customers routinely export custodian information from Legal Hold Pro to consolidate data on other systems. For example, customers will maintain a flag in their HR systems to designate which employees are subject to active holds. Another common use for the HoldLink API is to generate standard or configurable reports programmatically and transfer them to other systems or data repositories, which include IT Ticketing Systems, Email Archives, Data Collection Applications, and HR Systems.
Exporting Action Request Data to Other Programs
Request Tracking is an essential part of Legal Hold Pro as it is used to open and maintain data preservation communications between departments. The Request Tracking module allows the legal team to make action requests such as silent/stealth legal holds, requests for data collection, notifying IT ticketing systems, and removing automated archival processes.
There are API endpoints available to pull out the request tracking data into other systems. This data can include information about an activity pertaining to the legal hold that needs to be performed, a list of custodians, custodian contact information, and data attributes. Once the individual assigned an action request via Request Tracking and the corresponding action has been performed, additional information can be pushed back into Legal Hold Pro, updating the administrator about the action that has been performed or how much data was collected. HoldLink facilitates these workflow processes.
Ready to learn more?
HoldLink for Legal Hold Pro provides a secure, universal gateway for exchanging critical data with enterprise application systems and electronic discovery tools. The bi-directional API passes information so that Legal Hold Pro can receive updated contact and matter information and also forward custodian data and collection requests to popular collection and processing software tools — automating data preservation and making the process trackable defensible. Contact us to learn more about how HoldLink can help improve your ediscovery processes.