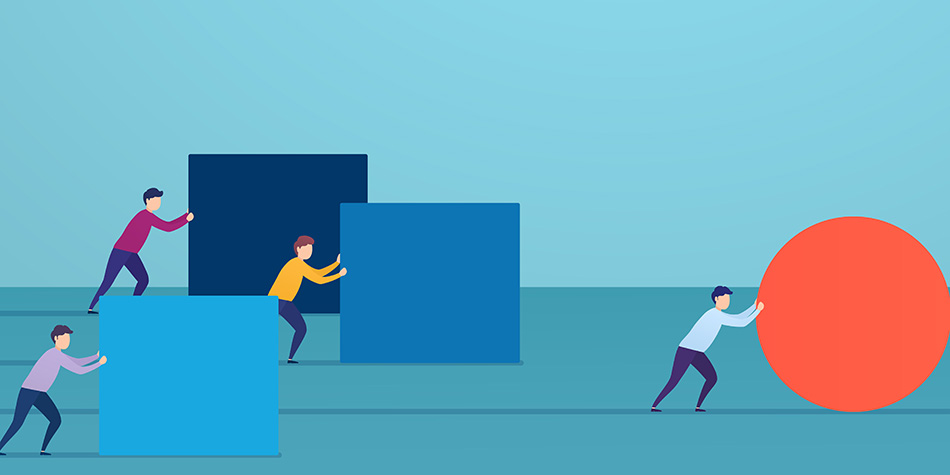 The world of in-house legal teams has shifted dramatically in just the last two years. Profound changes to the meaning of work and the way we conduct business, a greater awareness of important social issues, the explosion of digital capability, and a global health crisis have made evolution a constant and a necessity.
This evolution has also wrought a host of new challenges for Legal. The ever-changing legal landscape challenges every organization in unique ways, but while no legal department's transformation journey is exactly the same, there are some common trends:
Increasing amounts of data: The volume of data that existed in 2020 will have quadrupled by 2025. Access to data is critical for measuring success and making better decisions, but such vast quantities can be difficult to parse for genuine insights. Legal teams also often struggle to isolate the right KPIs in this sea of information.
More data sources: Legal is also challenged by the proliferation of data sources, which can make defensible ediscovery even more complex. While email is still the primary source of electronically stored information (ESI), the widespread use of collaboration and messaging tools can lead to major expenditures of time and resources during discovery.
Cyber threats: Legal teams are always attuned to potential risks, and few are as serious as increasing cyber attacks. The number of ransomware and supply chain attacks rose sharply in the last two years, while distributed-denial-of-service (DDoS) attacks will total 15.4 million by 2023. And vulnerabilities are more costly than ever—a recent IBM study estimates that in the United States, a data breach costs on average $4.24M per incident.
Data privacy: Regulations like California's CPRA and CCPA or the EU's GDPR underscore the growing importance of data privacy. These regulations are also continually evolving in ways that will impact ediscovery teams. For example, provisions in the CPRA create new rules for data retention and minimization, and compliance will fall on Legal's shoulders.
Corporate investigations: A confluence of social and economic changes in the wake of the pandemic have accelerated an ongoing trend of increased investigation. And legal teams are under greater scrutiny than ever before to conduct these investigations with full transparency.
Budget Pressure: While demand on legal teams continues to rise, many companies are cutting budgets. This places even more pressure on teams to create efficiencies designed to control cost, decrease spending on outside counsel where possible, and manage risks effectively.
2 Ways to Tackle Ediscovery Challenges
It's clear that the context and complexity in which corporate legal teams function is changing rapidly and constantly. The pressure to control costs, mitigate risk, embrace digital transformation, and do more with less demands a fundamental shift in the way in-house legal teams operate. Teams that meet these challenges head on share two common approaches to their own transformations.
1. Embrace a legal ops approach
A 2021 study conducted by the Thomson Reuters Institute found that greater oversight was the top priority for corporate legal teams. This is no surprise, given the litany of challenges we've already discussed, but many in-house teams have discovered they lack the core competencies to better control processes. That's why as many as 81% of last year's hires in Legal were in legal operations (legal ops).
Even if your company is not adding headcount with a dedicated legal ops team, it's beneficial to take on a legal ops approach to the way your team functions. A legal ops approach allows you to take on the biggest challenges facing in-house legal through:
Strategic planning
FInancial and project management to control costs and optimize process
Management of regulatory compliance in areas like privacy and cybersecurity
Technology investment and adoption
Opportunities to automate manual tasks
Clear risk-management objectives
2. Empower your ediscovery team with the right tools
Ediscovery once primarily supported litigation, but as the scope of corporate legal grows, the role of your ediscovery team should also expand. Ediscovery is now used in areas like information governance, document retention and defensible deletion, data-privacy compliance, regulatory responses, and corporate investigations.
To get the most out of ediscovery, it's important that you empower your team with the right tools to succeed. A recent Deloitte survey of legal ops professionals found that 76% were currently in need of new, streamlined technology to better execute against strategic goals. Ediscovery software not only gives your team more control, it also supports the primary value propositions of legal ops:
Creating cross-functional alignment: Even though they are increasingly partnering with outside business units like HR, Finance, and (especially) IT, legal departments are often siloed in their day-to-day operations. Ediscovery software, in concert with organization-wide information governance standards, helps to bridge this divide by creating a central system of record and reporting across teams. It can also help to automate tasks for other departments.
Producing better metrics and analytics: When processes fail or costs balloon, it's often because your teams don't have the metrics they need to track performance or the true data insight necessary to make the best decisions. In fact, 74% of respondents to the Deloitte survey reported that they didn't have clear or accurate metrics on the work they performed. A robust ediscovery platform can help your legal team isolate, track, and report against the most business-critical metrics.
Better technology utilization: There is more technology than ever across the enterprise, but your legal team still spends so much time on rote, manual tasks. That means you aren't getting the most out of your technology investment. The best ediscovery platforms are easy to learn and easy to use, driving greater rates of adoptions. They also focus on automation, which frees up your talent to focus on more meaningful work. Ediscovery tools can also scale quickly when spikes in litigation occur.
Optimizing resources: Corporate legal teams dealing with tightened budgets can use ediscovery technology to internalize and automate expensive data processing and review tasks. Subscription-based ediscovery solutions also make these costs more stable and predictable.
The pace of change and transformation for in-house legal teams will only increase. To meet these challenges, your team has to evolve so they continue to manage and minimize new risks and control costs as budgets tighten. Legal ops and ediscovery teams bring clear value and help you tackle these challenges if they are supported by the right tools and resources. Ediscovery software can be a smart way to do more with less, better integrate with other departments, and achieve your strategic goals—now and in the future.
To Learn How Zapproved's Ediscovery Solutions Can Support Your Legal Ops Approach, Contact us Today!
Take the Next Step