Zapproved Solution Brief: Title IX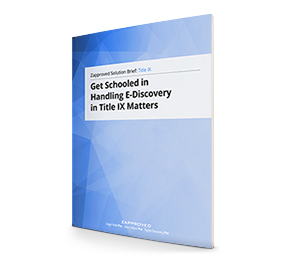 Educational institutions at every level face a myriad of legal challenges, among them lawsuits by students and employees, federal and state audits and program reviews, internal investigations, and public information requests.
Most schools and universities are historically ill-equipped to handle the compliance demands required by Title IX of the Education Amendments of 1972 as their data stores are fragmented and they use largely manual processes for tracking and processing legal and regulatory matters, including legal holds. The challenges of satisfying these information requests while protecting confidential information continue to rise, perpetuating backlogs and creating a perception of a lack of transparency on campus.
In-house legal teams need defensible solutions to help educational institutions meet compliance requirements and efficiently respond to litigation demands.