Preservation education was full throttle as Zapproved brought their popular Conference on Preservation Excellence (PREX), traditionally held each Fall in Portland, Ore., to LegalTech New York 2015 New York. Both 75-minute continuing legal education seminars(CLEs) were standing room only with an audience full of corporate counsel and litigation support teams.
The morning session, Preservation Case Law – Judges and Experts Evaluate the Top 5 Opinions of 2014 and What They Mean to Corporations shared what the courts had to say in 2014 about how organizations should handle data preservation. Opinions were more nuanced as the courts confront burgeoning data, evolving technologies and new data sources. The CLE featured some of the country's leading jurists and ediscovery experts including: Maura Grossman (Moderator), Wachtell, Lipton, Rosen & Katz; Hon James Francis, US Magistrate Judge, SDNY ; Hon. Frank Maas, US Magistrate Judge, SDNY; Hon. Ron Hedges, Former US Magistrate Judge, DNJ; Michael Arkfeld, Arkfeld & Associates and Bill Butterfield, Hausfeld LLP who reviewed five key opinions and what they mean for corporations in order to avoid similar pitfalls.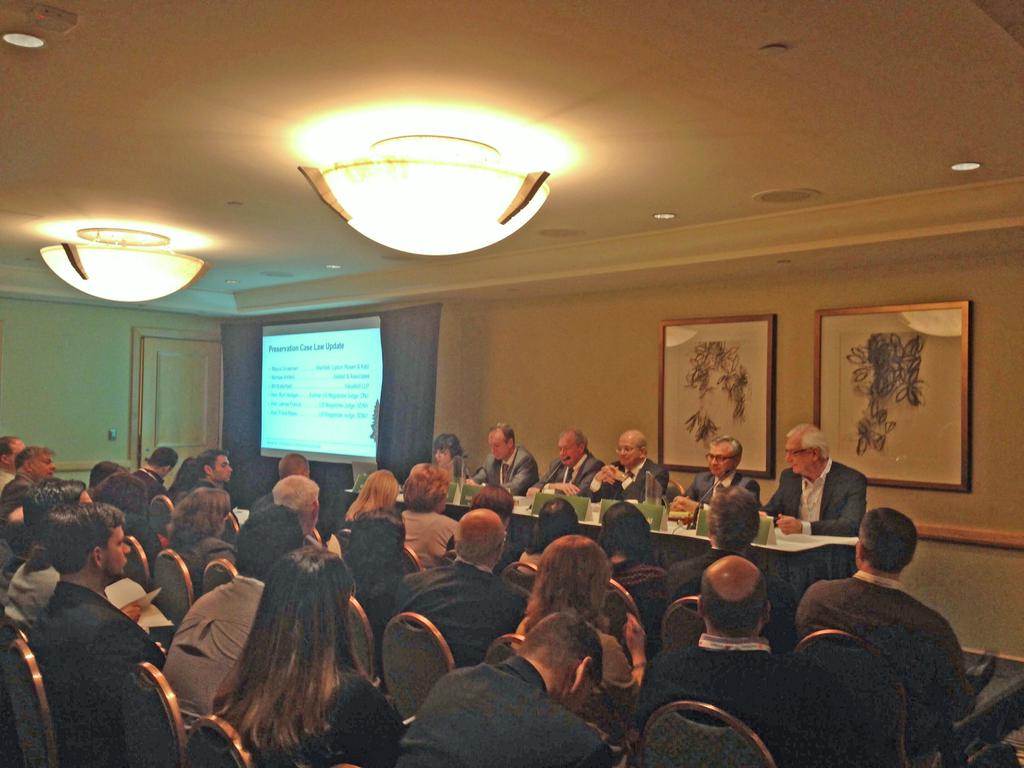 The afternoon CLE session, Eight Keys to Data Preservation Excellence – Actions Corporations Must Take to Reduce Spoliation Risks , discussed the the current preservation reality that despite continued legal opinions espousing the risk, too many organizations still ignore data preservation until well after a triggering event as occurred.
The high-powered panel of ediscovery experts featuring: Ariana Tadler (Moderator); Milberg LLP, Robert Owen; Sutherland Asbill & Brennan LLP; Craig Ball, Craig D. Ball; P.C., David Cohen, Reed Smith LLP; Charlotte Riser Harris, Hess; Christopher Starr, Comcast and Dawn Radcliffe, TransCanada shared actionable techniques that corporations need to pursue in order to reduce the cost of ESI preservation while mitigating risk. The goal is simple: to put your organization in a better position the next time a preservation duty arises.
Interested in learning more about Zapproved's Conference on Preservation Excellence (PREX)?
The annual PREX conference series sponsored by Zapproved, is the only gathering nationally that provides guidance and clarity in the area of data preservation and legal holds. Zapproved's educational sessions emphasize real-world techniques for navigating the challenges of preservation and meet the standards of care demanded by the courts — while minimizing the burden in terms of both costs and labor. Check out our PREX15 conference for more information or register now for early-bird pricing!