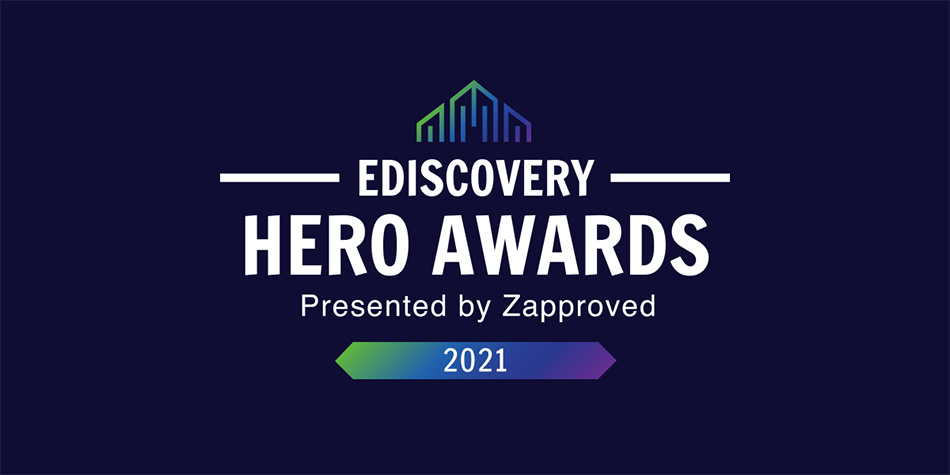 Last night, members of our ediscovery community came together for the 5th annual 2021 Ediscovery Hero Awards, for an amazing evening celebrating some of our industry's true heroes! Traditionally, this event is held in New York during Legal Week at a beautiful venue with a scrumptious meal and drinks flowing. This year, our event was held virtually, though it even included the carved-out mingling and networking time attendees love so much. We also sent out fun little cocktail kits to help recreate the mood of an evening soiree! We are so happy to report it was a complete success – and next year, we hope to be back to see everyone live in New York.
What The Awards Celebrate
The Ediscovery Hero Awards honor corporate legal professionals who demonstrate excellence in ediscovery, legal operations, and litigation response. These individuals and teams embrace today's tough challenges and help to advance the corporate ediscovery industry for everyone. With the support of our esteemed partners at ACEDS, EDRM, Nuix, Onna, Smarsh, and Stout, we presented five different awards last night.
We were also delighted to welcome keynote speaker Justice Adrienne Nelson to the Hero Awards family. Justice Nelson was appointed to the Oregon Supreme Court on January 2, 2018, making her the first African American to sit on the state's highest court and on any appellate state court. During her speech, Justice Nelson talked about our country's current challenges and the incredible potential for how people can come together, learn from successes and failure, and discover actionable ways to get involved and make a difference.
The Challenger Award
The first award of the night recognized the professionals who encounter difficult topics and incidents with serious implications and consequences. The nominees have a demonstrated history of analyzing complex issues and implementing creative solutions that benefit their teammates, their companies, and all other stakeholders. Their perseverance has yielded overwhelmingly positive results for their department and organization. The finalists for this award were: Marla Crawford, Walter Lundahl from National Grid, Ben Robbins from LinkedIn, Rich Robinson from Toyota North America, and Jack Thompson from Sanofi.
Congratulations to award winner, Marla Crawford!
The Alliance Award, Finalists, and Winners
The next award was a team recognition for colleagues who are a shining example of the power of collaboration. Members of these teams focus on lifting each other up and sharing their individual skills to achieve the best results for their organization. The finalists for this award were: AT&T Ediscovery Litigation Team, JPMorgan Chase Legal Discovery Management Team, Nationwide Discovery Management Unit, and Phillips 66 Legal Discovery Team.
Our panel of judges had a Hero Awards first – a tie! The winners were the JPMorgan Chase Legal Discovery Management Team, and the Phillips 66 Legal Discovery Team!
The Diversity, Equity and Inclusion Impact Award
We also recognized those in ediscovery who are creating positive changes to improve diversity, equity and inclusion at their organization. These nominees have used their position and voice to advocate for more inclusive hiring programs, diverse mentorship opportunities and are leaders on committees and associations to promote diversity, equity and inclusion in their field. The finalists for this award were: Natalie Carter from Duke Energy, Kemoy Foster from Swiss Re, Barry Parsons from Freddie Mac, Khadijah Sharif-Drinkard from ViacomCBS.
Congratulations to award winner Khadijah Sharif-Drinkard!
The Visionary Award
This award recognizes that the technology landscape is changing every day and keeping pace with emerging chat apps, software platforms, and productivity tools can feel like a losing battle. The award recognizes professionals who have embraced new tools and leverage technology to streamline ediscovery workflows, making litigation responses feel nearly effortless. The finalists for this award were: Connie Mockaitis from AbbVie, Farrah Pepper from Marsh & McLennan, and Julie Richer from American Electric Power.
Congratulations to award winner Farrah Pepper!
The Hon. Shira Scheindlin Lifetime Achievement Award
Each year, the Hero Awards honors a single individual in the ediscovery community whose actions over the lifetime of their careers have significantly influenced and elevated the practice of ediscovery. Named for the indomitable Judge Shira Scheindlin, this year's award honored ediscovery superstar Dr. Maura R. Grossman, J.D., Ph.D.
Maura is a Research Professor in the School of Computer Science at the University of Waterloo and an Adjunct Professor at Osgoode Hall Law School of York University, both in Ontario, Canada, and Principal at Maura Grossman Law, an eDiscovery law and consulting firm in Buffalo, N.Y. She is well known for her scholarly work on technology assisted review ("TAR") and for her role as a special master, mediator, or expert in multiple high-profile federal and state court cases. Congratulations, Dr. Grossman!
Thank you, and See You Next Year!
Each year we look forward to planning the Ediscovery Hero Awards and bringing our community together to celebrate. This year was no different. It is always inspirational to see the nominations come in, to hear from our finalists about the way they welcome challenges in the industry, and the things they do to make themselves and their companies a success. We hope you will join us next year for the celebration.