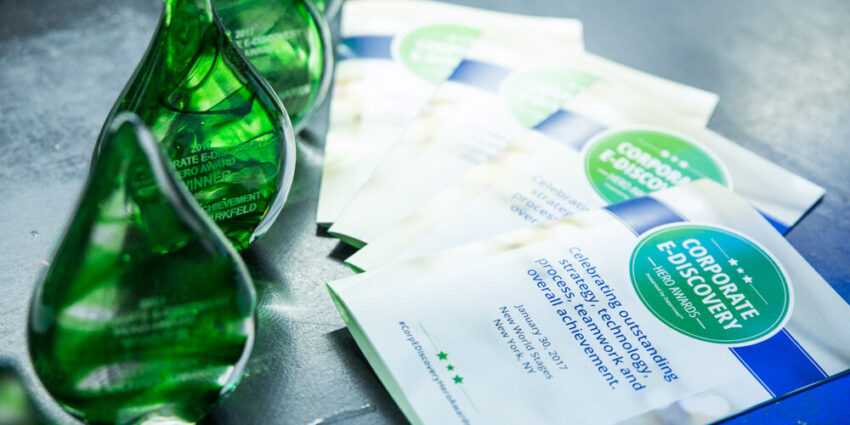 Learn how these ediscovery experts are using innovative thinking to make ediscovery better.
The inaugural Corporate Ediscovery Hero Awards took our breath away! This historic evening overflowed with inspiring stories, meaningful discussions and one-of-a-kind presentations. If you were there on Mon., Jan. 30, thank you for joining us! Take a look at these photo highlights.
Our hero award winners — from corporate counsel to distinguished experts — opened their hearts to share what this honor means to them and to their teams. They described how and why they are harnessing strategy, technology, process and teamwork to solve ediscovery for their organization, now and into the future. These ediscovery heroes, often unsung, are making big strides for all of us.
We invite you to get to know them here!
2017 Corporate Ediscovery Hero Award for Lifetime Achievement
Presented by Hon. Shira Scheindlin, retired U. S. District Judge, Southern District of New York
Honoring individuals in the ediscovery community whose actions over the lifetime of their careers have significantly influenced and elevated the practice of ediscovery.
Winner: Michael Arkfeld
Founder and Director of Education for the eDiscovery Education Center and Director of the Arkfeld eDiscovery and Digital Program at the Sandra Day O'Connor College of Law at Arizona State University
Michael Arkfeld is the Founder and Director of Education for the eDiscovery Education Center and Director of Arkfeld eDiscovery and Digital Program at the Sandra Day O'Connor College of Law at Arizona State University. The program hosts the annual ASU-Arkfeld eDiscovery and Digital Evidence Conference each March, providing contemporary education, training and research for the legal concepts and technological issues involving electronic discovery and digital evidence.
Arkfeld is perhaps most well known as the author of Arkfeld on Electronic Discovery and Evidence. It is the comprehensive treatise on discovery and admission of electronic evidence, also referenced in the renowned Zubulake decision. As a former Assistant U.S. Attorney for the District of Arizona, Michael handled multimillion-dollar cases involving personal injury, medical malpractice, wrongful termination and a host of other tort claims. He has appeared before both federal and state appellate courts and has extensive experience in jury and bench trials.
Michael is a frequent presenter and author. He works to educate a wide range of legal professionals, from federal judges to law school students to ediscovery practitioners.
2017 Corporate Ediscovery Hero Award for Strategy
Presented by BRG
Honoring in-house professionals who've developed and implemented cost effective and creative policies and practices that reduce corporate risk and demonstrate ediscovery excellence.
Winner: Brett Tarr
Caesars Entertainment, Inc.
Brett serves as Counsel, Litigation and E-Discovery, for Caesars Entertainment in Las Vegas, a gaming corporation that operates over 50 casinos and hotels. An ediscovery veteran, Brett has over 15 years of experience leading ediscovery initiatives for national law firms, corporate legal teams and ediscovery providers. This depth and breadth of experience has enabled him to drive exceptional results for the organization, including over $500 million in cost savings during his tenure. Some highlights include: migrating to a new legal hold automation system that increased custodian acceptance rates from 46% to 91%, and re-scoping of collections by 25% to 85% which dramatically reduces the volume of data for review.
Finalists:
Ron Harry, Honeywell International, Inc.
Ron is Director of Legal Operations and E-Discovery at Honeywell International, Inc. His work to comply with international laws and in-house legal hold and review software updates saved $3M in 2016.
Dawn Radcliffe, TransCanada Pipelines Ltd.
Dawn is Legal Technology Manager at TransCanada Pipelines, Ltd. Efficiencies from new ediscovery software she brought in-house delivered full ROI within seven months. The system continues to save millions annually in cost avoidance.
—
2017 Corporate Ediscovery Hero Award for Technology
Presented by Apttus
Honoring in-house professionals who leverage new and emerging technology and information systems to reduce corporate risk and improve efficiency in their overall ediscovery and compliance responsibilities.
Winner: Michael Chung
S&P Global
Michael is the Director of E-Discovery and Security Awareness at S&P Global, a Fortune 500 company that specializes in financial
information and analysis. Michael is the ediscovery and compliance liaison helping the team manage employment matters, internal investigations, litigation matters and regulatory reviews.
S&P Global had been using an ediscovery platform with a lot of bells and whistles but a steep learning curve that inhibited use. The legal team had been using manual processes for legal holds, routing all data collection requests through Michael and outsourcing all data review and production to outside counsel. This was slow, expensive and risky. Michael led the team to implement a suite of ediscovery software that is easier for non-technical users to issue legal holds; do forensically-sound data collection; and process, review and produce data. Now they can manage more of the ediscovery and compliance process in-house, dramatically cutting outside services costs and getting better outcomes.
Finalists:
Michael Knight, formerly of U.S. Department of Housing and Urban Development
Michael was Investigative Specialist, E-Discovery, U.S. Department of Housing and Urban Development (HUD) for seven years. He developed HUDapedia, a knowledge sharing wiki site, and ediscovery training and data management solutions.
Cortney Starble, CBRE Group, Inc.
Cortney is E-Discovery Project Specialist for Global Litigation at CBRE. By implementing new technology solutions, she and her team now manage all CBRE ediscovery initiatives in-house. This saves costs and accelerates insights.
—
2017 Corporate Ediscovery Hero Award for Process
Presented by Smarsh
Honoring in-house legal professionals or consultants who guide in-house teams in improving their processes to yield more defensible, repeatable, and efficient workflows and cultivates a culture of compliance.
Winner: Charlotte Riser Harris
Hess Corporation
Charlotte is the manager of practice support for the legal department at Hess Corporation, a Forbes Global 2000 energy company. She handles ediscovery and legal operations and drives efficiency with the use of technology to automate manual processes.
She and her team centralize ediscovery and legal operations and partner with IT to manage data access. Together, they developed and maintain clearly written processes for ediscovery and compliance. They also handle digital legal hold notification, preservation, identification and collection and use secure tools to automatically cull data. By running these processes in-house, Charlotte limits what needs to be sent outside for managed review, saving the company both time and cost. Her work has created defensible, repeatable and efficient ediscovery workflows that cultivate a culture of compliance and limit corporate risk.
Finalists:
Laura Curran, Comcast Corporation
Laura is Project Manager of Information Governance and E-Discovery, Comcast Corporation. Laura and her three-person team replaced a manual process with new digital tools to preserve, collect and review data, creating huge cost savings.
Alexandra Desmond, Sykes Enterprises Incorporated
Alexandra is project manager and certified paralegal for the Global HR Compliance department at Sykes. Processes she's created have yielded more defensible, repeatable and efficient ediscovery workflows and improved compliance.
—
2017 Corporate Ediscovery Hero Award for Teams
Presented by SRR and D4
Honoring in-house teams who consistently improve their ediscovery efficiency, security and compliance performance to demonstrate measurable results for the company.
Winners:
GE Discovery Center of Excellence
Farrah Pepper is Executive Counsel-Discovery of the GE Discovery Center of Excellence (COE). Her 10-person team supports litigation and investigation for legal teams of all GE businesses around the world. The team carefully allocates resources to meet ediscovery goals of preservation, collection, processing, search, review, analysis and production of data. Together, they collaborate across international units to add efficiencies and reduce the need for external services. Since forming in 2013, the team has dramatically increased service utilization, reduced costs and saved time.
Commercial Litigation Practice Group at McDonald's Corporation
Raven Moore, Managing Counsel, leads the Commercial Litigation Practice Group at McDonald's Corporation, which includes Diane Diaz, Paralegal; Sue Stopka, Paralegal; and Sharyl Tamssot, Paralegal. This small, three-person paralegal team oversees a wide variety of litigation across the U.S. and globally. In a few short years, the team has made big strides in syncing ediscovery workflows with technology to produce better processes and cost savings for the whole company. Together, the small but mighty paralegal team has mapped a course to ediscovery mastery that serves as a model for others.
Finalists:
CSX Transportation, Inc.
Lisa Balter, Director of Information Management, CSX Transportation, leads a four-person team, including John Puente, Josh Wildharber and Olga Malosh. Achievements in ediscovery training, software and workflow have bolstered productivity, reduced ROT data and strengthened compliance.
Southern California Edison
Michael Mar is eDiscovery Manager, Southern California Edison. His team includes himself, Leon Bass, Andrea Michael and Allan Johnson. In just a year, they have helped the enterprise embrace an ediscovery system and partner together to enhance results.