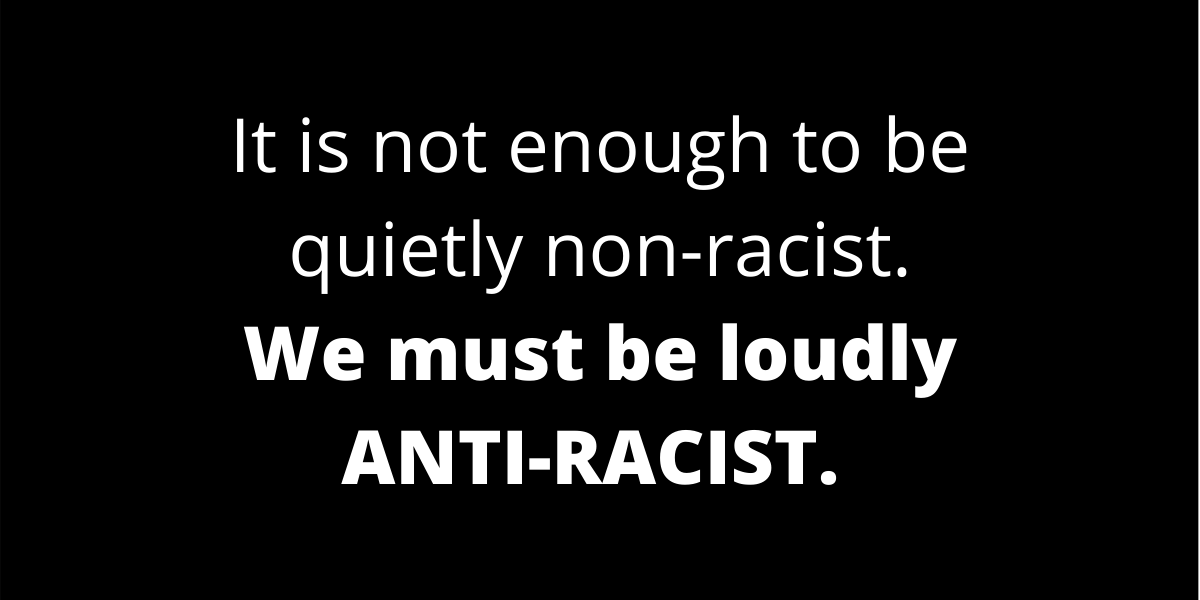 Privilege. By definition: a special right, advantage, or immunity granted or available only to a particular person or group.
White supremacy is the idea that white people are better and more deserving of wealth, power, and yes–privilege–than people of color. White supremacy pervades our culture, institutions, and relationships. It is a self-perpetuating system that continues to fuel exploitation, oppressions, inequities, and brutalities that people of color experience.
It should not be a privilege for every person in America to live their lives feeling safe and secure. We must fight white supremacy individually and together if we hold hope for a better, community for us all.
WHAT WE STAND FOR
"Anti-racism is a commitment to fight racism wherever you find it, including in yourself. And it's the only way forward." ~ Ijeoma Oluo
We understand that racism is in the air we breathe and the water we drink and we are committed to the ongoing practice of surfacing it and rooting it out. We know this is a never ending journey that we commit to every day. We are dedicated to helping to build an inclusive tech community and a better Portland.
We are committed as a company to be anti-racists. To fight racism when we see it. To call out the inequities in our workplace and make a commitment to lead with our eyes open to the work that we need to do. We stand with those who are at a disadvantage economically because of structural issues and are committed to using resources to make change in our society.
WHAT WE ARE DOING
Supporting the community by continuing to offer events and workshops that are open to the public, addressing issues of inequality for those who are underrepresented and marginalized.
Change starts at the local level, and we will continue to support local groups that work with the community to make change including PDXWIT, TechTown, Portland Means Progress, and Black Women in STEM and others.
Education is power. Training our team internally on Allyship and how to use their voices to call out racism and bigotry when they see it.
We've created a Virtual Resource Center for our team with links to articles, books, podcasts, etc. to foster their growth and learning.
WHAT YOU CAN DO
Our leadership is matching donations made by the Zapproved team to the NAACP Legal Defense Fund, the ACLU of Oregon, the Southern Poverty Law Center and the Oregon Justice Resource Center to support their work reforming our system of racial inequity. Please donate, support and engage with your community. This work needs to be done by all of us.
Grow and build from within. We know systemic racism is built into everything we do. Look at the systems you have in place in your office. Analyze and review your hiring practices. How are meetings run in your office? Does everyone have a voice? And are those voices being amplified? Are managers supporting growth in their teams and promoting black people?
Encourage your team to attend meet-ups and workshops that give them skills to be better anti-racists. Start a slack channel and post community events. Look outside of the tech community to find voices you wouldn't normally hear in the predominately white environment of tech.
Participate. When your teams see you standing up, speaking out, and taking action, they will too.
LISTEN
Follow these black voices in the community.
JOIN US
As a company that supports anti-racism, we will continue to purposefully identify, discuss and challenge issues of race and color and the impact(s) they have on our company, its systems, and our team. We challenge ourselves and you to identify and correct any inequities we may discover within our organizations and gain a better understanding of who we are during the process.
Systemic change starts with all of us. Please stand in solidarity with the targets of racial inequality. Stand with those who work day in and day out to build a more inclusive and just society. Reach out to your communities and we can stop the hate together.