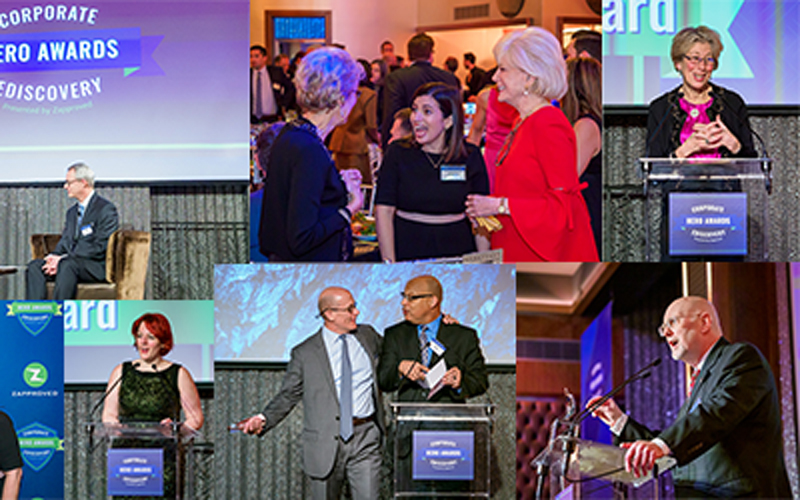 Legalweek, one of the biggest legal industry events of the year, kicked off in style on February 3 at the Edison Ballroom in Manhattan as Team Zapproved rolled out the green carpet at the Corporate Ediscovery Hero Awards!
The Corporate Ediscovery Hero Awards event is an annual night of celebration, awards, food, and drinks that brings together some of the industry's best and brightest.
Award recipients are determined by an independent panel of judges, and this year's nominees and finalists were the cream of the ediscovery crop! We spent a wonderful evening honoring the winners and catching up with our friends in the ediscovery community, and we're thrilled to share the full list of awards and recipients here.
Clarity Award: This category honors ediscovery professionals who consistently analyze complex issues and implement creative solutions that benefit their teammates, their companies, and all other stakeholders. Winner David Orensten leads the Discovery Team at Cardinal Health and has significantly increased custodian compliance rates using Legal Hold Pro. He also developed and implemented a Discovery Playbook that yielded nearly $3 million in cost savings.
Futurist Award: The technology landscape is changing every day and keeping pace with emerging chat apps, software platforms, and productivity tools can feel like a losing battle. This year's winner, Paul Armbruster, developed the Salt River Project's ediscovery functions by creating an ediscovery process and procedure playbook, as well as a collection tracking and ticketing system. He also reconfigured the email archiving system to delete approximately 25 million emails that were no longer subject to holds.
Beacon Award: Corporate ediscovery can be a challenge. Professionals in this field often encounter difficult topics and incidents with serious implications and consequences. Daniel Kulakofsky, the winner of the 2020 Beacon Award, was hired by Travelers Insurance 13 years ago to develop an ediscovery function for the business. He implemented a metrics-based approach to ediscovery, and expanded the team's influence as trusted advisors. Because of his efforts, the company has not been sanctioned for any issues related to ediscovery in the last 12 years.
Dreamwork Award: The Dreamwork Award recognizes groups of colleagues who are a shining example of the power of collaboration. Members of these teams focus on lifting each other up and sharing their individual skills to achieve the best results. The dynamic team from NuStar Energy took home the Dreamwork Award by continually and progressively reevaluating resources and procedures to ensure policy compliance. Members worked together to establish multi-departmental training to support custodians, and also reevaluated and implemented a full suite of new technology products. They are focused on handling the entirety of the ediscovery process in-house, unless there is insufficient bandwidth or the matter is too sensitive to do so.
Another highlight of the night was the presentation of the 2020 Hon. Shira Scheindlin Lifetime Achievement Award to Ken Withers. Ken's award featured thoughtful, funny, and moving speeches by Hon. Jon M. Facciola, Hon. Shira Scheindlin herself, and an intro by Monica Enand.
Ken Withers is the Deputy Executive Director of The Sedona Conference, an Arizona-based nonprofit law and policy think tank that has been on the forefront of issues involving complex litigation, intellectual property, and antitrust law. Since 1989, he has published several widely-distributed papers on electronic discovery, hosted a popular website on electronic discovery and electronic records management issues, and given presentations at more than 300 conferences and workshops for legal, records management, and industry audiences.
Ken remains passionate about research in the electronic information age, as evidenced by his distinguished multi-decade career. The evening was capped off with a Q&A between Dan Kulakofsky and esteemed journalist Lesley Stahl, featuring thoughtful reflections on what it has meant to her to be a 60 Minutes correspondent for so long. She also told the crowd about the strangest scoop she ever got! And that was all just Monday night!
Earlier in the day, Zapproved hosted our New York User Group, as well as the Cascadia Sessions. The Cascadia Sessions are a think tank of ediscovery leaders who come together to share, learn, and work on the challenges facing corporate legal teams. We are grateful for the ability to bring together different people from the corporate ediscovery community in so many ways.
Legalweek continued with the Legaltech New York trade show, one of the largest gatherings of legal industry professionals seeking to explore new business, regulatory, and technology trends. It was a pleasure to chat with everyone who visited the Zapproved booth—we love the opportunity to catch up with our colleagues and partners in the industry!
Thanks to everyone who attended the Hero Awards, the Cascadia Sessions, the Zapproved User Group, and anyone who stopped by the booth. Next up, we'll see you at PREX 2020 in Portland!