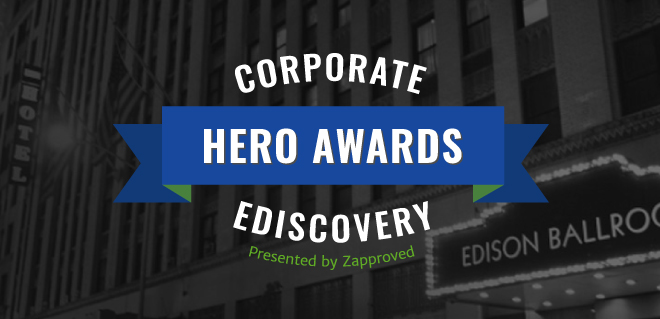 The 2020 Corporate Ediscovery Hero Awards are less than a month away. This year's finalists have made remarkable achievements, both on the individual and team levels, and we're excited to celebrate their triumphs soon. While we await the event, we'd like to introduce each of our distinguished finalists, as well as the categories they represent. This year's award categories recognize considerable contributions to the ediscovery field.
Clarity Award
There are so many layers to corporate ediscovery. Clarity Award nominees have a demonstrated history of analyzing complex issues and implementing creative solutions that benefit their teammates, their companies, and all other stakeholders. Their perseverance has yielded overwhelmingly positive results, including overcoming obstacles left in place by legacy systems, encouraging adoption of new technologies, and improving outcomes.
Ebony Green, Abbott
Laura Kibbe, IQVIA
David Orensten, Cardinal Health
Beacon Award
Corporate ediscovery can be a challenge. Professionals in this field often encounter difficult topics and incidents with serious implications and consequences. Despite the gravity of their day-to-day responsibilities, the nominees in this category each bring a positive attitude to the office every day. The Beacon Award recognizes professionals who exceed expectations while making work feel a little less like work.
Jana Friedman (American Airlines)
Dan Kulakofsky (Travelers)
Julie Richer (AEP)
Farrah Pepper (MMC)
Futurist Award
The technology landscape is changing every day. Keeping pace with emerging chat apps, software platforms, and productivity tools can feel like a losing battle. The Futurist Award recognizes professionals who have streamlined ediscovery workflows, making litigation response feel nearly effortless.
Paul Armbruster, Salt River Project
Chelsea Perez, The Humane Society
Barbara Squires, Home Depot
Florence Yee, Prudential
Dreamwork Category (Best Team)
The Dreamwork Award recognizes groups of colleagues who are a shining example of the power of collaboration. Members of these teams focus on lifting each other up and sharing their individual skills to achieve the best results.
NuStar Team
Phillips66 Team
Entergy Team
Horizon Blue Cross Blue Shield of New Jersey
Learn more about each nominee here.