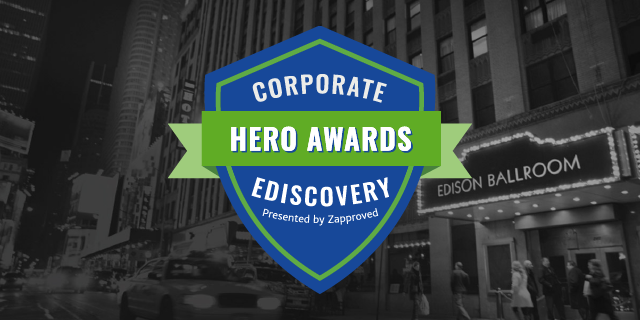 The finalists for the 2019 Corporate Ediscovery Hero Awards have been announced! Nominees are individuals and teams within in-house legal teams who have taken a leading role in transforming how corporations, non-profits, and public agencies respond to litigation. The winners will be revealed at a ceremony at New York City's Edison Ballroom on January 28, 2019.
From a diverse field of nominees, 18 in-house legal professionals were selected as finalists in four categories. The finalists are each interviewed extensively and then a panel of judges comprised of peers, past winners, federal judges, and ediscovery experts vote in a blind process.
Guardian Award finalists protect their organizations from risk by building defensible and secure processes for ediscovery and litigation response.
Ellen Blanchard, T-Mobile
Sherri Gleason, Dean Koenig & Kevin Patterson, American Airlines
Robert Levy, ExxonMobil
Kara Ricupero, eBay
Shelli Toletti, Tesla
The Maximizer Award is for those who have implemented processes and systems to streamline workflow, control costs, and save time. Finalists for 2019 are:
Joslyn Chulski, Dow Chemical
Ebony Green, Abbott Laboratories
Taylor Hoffman, Swiss Re
Sonya Judkins, Sprint
Joanna Mason, Andeavor
Smooth Operator Award finalists are for those who have streamlined ediscovery workflows, making litigation response feel nearly effortless.
Toni Millican, Trinity Industries
Michelle Norman, Cox
Ben Robbins, LinkedIn
Michelle Spak, Duke Energy
The Trailblazer Award recognizes innovators who leverage new ideas, processes, and technology solutions. Finalists for 2019 are:
E.J. Bastien, Microsoft
Michael Chen, Lam Research
Cecil Lynn, PayPal
Farrah Pepper, Marsh & McLennan
"The Hero Awards are an opportunity to recognize the leaders and innovators who are transforming how corporate litigation is conducted, moving in-house legal departments from reactive approaches to proactive strategies that deliver measurable outcomes and minimize risk," said Brad Harris, Vice President of Corporate Strategy at Zapproved. "Our finalists this year come from a tremendous cross-section of industry-leading organizations, demonstrating that future-focused professionals can have a powerful impact on their company's efficiency, spend, and data security."
The Hero Awards ceremony will feature a fireside chat between Pulitzer Prize-winning journalist and 19-time bestselling author Bob Woodward and Craig Ball, a noted authority on electronic discovery. Bob Schieffer of CBS News has said, "Woodward has established himself as the best reporter of our time. He may be the best reporter of all time."