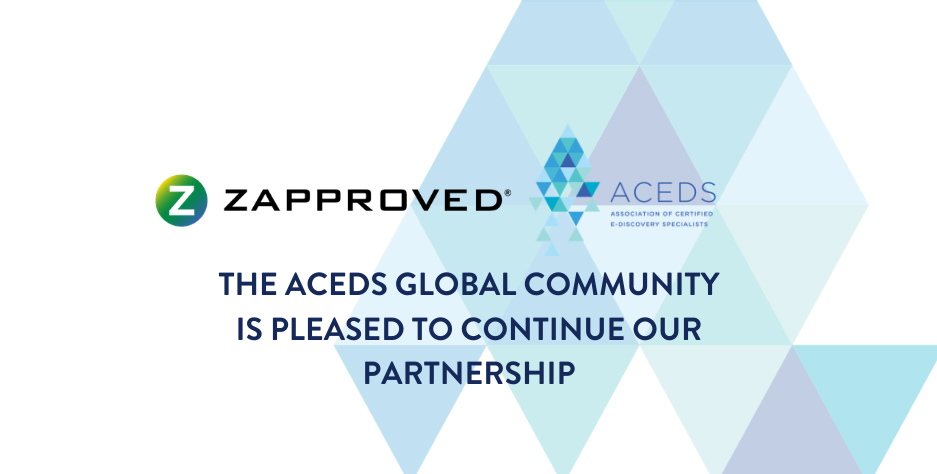 The Association of Certified E-Discovery Specialists (ACEDS), the world's leading e-discovery training and certification professional association and part of The BARBRI Group, is pleased to announce that Zapproved, an e-discovery software provider that empowers in-house legal teams to more effectively manage litigation response, investigations and information requests, has renewed as an ACEDS Affiliate Partner.
As an ACEDS Affiliate Partner, Zapproved plays an important role in the global ACEDS community, leveraging and contributing to the community's collective knowledge and expertise, and the association's education, marketing, training and professional development resources. Employees and partners of Zapproved are able to access ACEDS' breadth of job tools and networking forums, a global chapter network and events, and a best-practice-oriented worldwide community of professionals.
"The Zapproved team is known for its passion and innovation in leveraging software to transform the corporate legal process," said Maribel Rivera, Senior Director of Community Relations at ACEDS. "We're excited about the enhanced partnership which allows us to collaborate and share e-discovery best practices with our community."
"We are so thrilled to strengthen and solidify our long-standing relationship with the ACEDS community. We look forward to working with the new board of directors and celebrating the organization's continued growth," added Melissa Tatham, Zapproved Head of Marketing.
About ACEDS
The Association of Certified E-Discovery Specialists (ACEDS), part of leading legal education provider The BARBRI Group, is a global member-based association for professionals who work in e-discovery, information governance, compliance and the broader legal community. ACEDS provides training and certification in e-discovery and related disciplines to corporate legal departments, law firms, the government, service providers and institutions of higher learning. The CEDS certification is recognized around the world and used to verify skills and competence in electronic discovery for organizations and individuals through training, certification and ongoing education. The CEDS credential is held by practitioners at the largest Fortune 500 companies, Am Law 200 firms and government agencies. ACEDS has 23 chapters, with locations in most major U.S. cities, the UK, Ireland, Canada, the Netherlands and South Africa (with Australia and South America chapters coming soon). Our goal is to help professionals and organizations reduce the costs and risks associated with e-discovery while helping to improve and verify their skills and advance their careers and overall technology competence in e-discovery and related fields.
https://www.aceds.org