Put Legal Hold Pro at the center of your preservation process for greater efficiency, accuracy, and effectiveness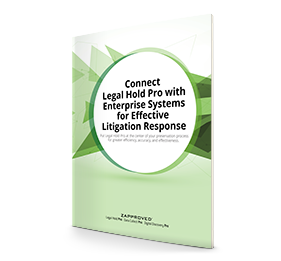 Reducing corporate risk of inadvertent spoliation is important. Successful preservation requires that cross departmental teams across the organization are aware of the duty to preserve and know which custodians, as well as which data sources, are subject to a litigation hold. The ability to connect with enterprise systems such as matter management, HR, email/global address book, and asset management systems, and automatically communicate information can vastly improve preservation results and efficiency.
This whitepaper addresses the four key benefits of connecting your automated legal hold software to enterprise systems:
Save time and rapidly kick off preservation directly from matter management
Improve communication about the status of custodian records across stakeholders
Automate the preservation of data with email systems like Microsoft Exchange and
Active Directory
Never miss preserving custodial assets by connecting our legal hold software to asset management systems
Questions?
We're here to help you build a platform for ediscovery mastery. If you need a hand or have questions, please contact us.